ARTICLE
RCP introduces their new Slim Jim Step-On range
15 May 2015
Designed to satisfy the diverse needs of any facility, the Slim Jim Step-On containers maximise space efficiency with a small footprint and slim profile ensuring a perfect fit in even the tightest spaces. Enhance environment aesthetics, ensure safety and well-being, and improve productivity.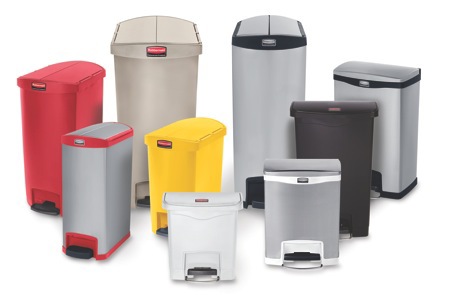 Environmental aesthetics
• Slim profile and small footprint
• Maximises space to fit in tightest spaces
• Internal hinge design –Prevents wall damage
• Fingerprint resistant stainless steel – Easy to maintain for enhanced aesthetics
Safety and well-being
• Quiet and controlled lid closure – Minimises noise to enhance guest and patient satisfaction
• Factory mutual certified – Ensures fire safety for regulatory compliance
• TÜV Certified – For sustainability, safety and quality
Improved productivity
• Optional dual stream rigid liners – Simplifies sorting, making recycling quick and easy
• Increased foot pedal clearance – For easier access and operation
• Liner retainer band and cinch – Easily and securely holds poly-liners
• Easy to operate and maintain – Slim Jim Step-On containers are designed and engineered with ease-of-use in mind. Features include liner cinches, liner retainer bands and dual stream options
• Guest and patron satisfaction – All Slim Jim Step-On containers feature an integrated lid dampener to minimise noise. Factory Mutual Certification and TÜV compliance helps your facility meet regulatory standards
• Blends seamlessly into any environment – Unlike other step-on containers that scratch walls when the lid is activated, our internal hinge design keeps the surroundings intact. Premium quality materials and finish enhance aesthetics
Available in resin or stainless steel, five sizes, six colours and either Front-step or End-step orientation, Slim Jim Step-On containers are designed to meet any facility needs. Purchase your Slim Jim Step-On today by visiting Nisbets.
OTHER ARTICLES IN THIS SECTION