Home
>
Purify, relax and energise with Rubbermaid air care
ARTICLE
Purify, relax and energise with Rubbermaid air care
03 July 2013
Three new fragrances use natural, essential oils to give a lift to your washrooms…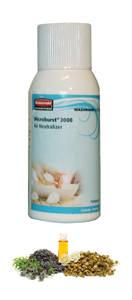 New from Rubbermaid Commercial Products is its Spa fragrance collection for air care. Suitable for use in a wide range of commercial environments, the three spa quality fragrances use natural, essential oils proven to positively impact moods while neutralising odours.
This ensures that the first thing you and your customers notice on entering your washroom is not bad odours, but a clean, fresh, pleasant and uplifting fragrance. Each blended spa fragrance offers complex, multidimensional scents proven to disperse evenly and last longer.
All three new Spa Collection fragrances can be dispensed through Rubbermaid's beautifully designed, streamlined range of air care dispensers. Systems available include the Standard Aerosol, Microburst 3000, and the Microburst Duet.
The Spa Collection fragrances are:
•Purifying Spa: crisp, floral notes of white lily, rose and jasmine harmonise with soft sandalwood, juniper berry and lemon grass oils to promote clarity and boost concentration
•Relaxing Spa: calming, herbal notes of chamomile and lavender intertwined with a soothing blend of musk, amber and orchid to soothe the senses
•Energising Spa: a bold, revitalising citrus fusion of mandarin leaf and pomelo, enhanced with the fresh essential oils of bergamot, grapefruit and lime, invigorate and recharge the spirit.
By combining new and reliable dispensing technology with the Spa Collection fragrances, Rubbermaid's range of automated air care systems are highly cost-efficient and long-lasting, delivering consistent and continuous freshness, to offer the solution to suit your specific washroom needs.
RELATED ARTICLES
No related articles listed
OTHER ARTICLES IN THIS SECTION