ARTICLE
Green innovation in air care
05 October 2016
Rubbermaid's new TCell 2.0 continuous odour control system is sleek, modern and compact. It's also orientation independent, with the ability to mount to any vertical or horizontal surface—walls, ceilings, and even furniture. This makes it spill proof, with no risks of leaks.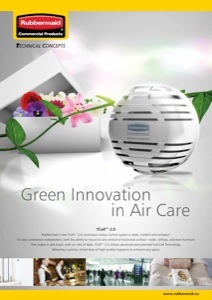 TCell 2.0 utilises advanced and patented Fuel Cell Technology, delivering a precise, timed dose of high-quality fragrance to enhance any space.
With its compact design and ability to be mounted anywhere, TCell 2.0 is a great fit for offices, lobbies, and other common areas where unpleasant odours can put a damper on the environment.
Patented fuel cell technology
TCell 2.0's patented fuel cell technology allows for the creation of hydrogen directly in the device's formula chamber. As each molecule of hydrogen is created, it forces an equal amount of odour neutraliser out of the chamber. From there, natural airflow distributes the fragrance and odour neutraliser throughout the space, covering up to 170 cubic metres.
• Silent operation
• Battery-free operation
• Eco-friendly / no harmful emissions
• A cost-effective air care solution
Preferred fragrances
Rubbermaid Commercial Products (RCP) offers a variety of clean, fresh fragrances representing consumer- preferred fragrance zones, increasing satisfaction with individual patrons. Top fragrances are offered as individual products or in convenient Preference Packs.
All TCell 2.0 fragrances include Microtrans, a total odour neutraliser. Odours are not simply masked, but are eliminated completely. TCell 2.0 fragrances last either 30 or 45 days, depending upon the selected dispenser setting, providing flexibility to meet the needs of each and every space.
OTHER ARTICLES IN THIS SECTION