ARTICLE
Cleans house carpets quicker
11 February 2019
Cleaning accessories and attachments from Prochem Europe have been expanded with the introduction of the Powermate 1200 extraction power wand - and feedback from the marketplace has been unequivocal.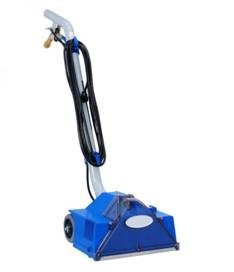 Domestic cleaners report that it makes cleaning house carpets quicker; contractors like the way it breaks down more soil than basic wanding would and improves productivity; housekeeping teams appreciate its light weight and ease of use around beds, desks and other hard-to-reach areas.
With self-levelling cylindrical 2500 rpm brush, 12" high-impact vacuum head and 25 ft. power cable, this unit does away with back strain from constant wand passes and scrubbing.
Attachable to any extraction cleaning machine, its ABS head's tip sprays solution while the 1/12hp electric motor powers a mechanical Tynex roller brush that agitates and breaks down heavy soiling, with waste sucked back into the machine's tank (a see-through front plate even enables you to watch the soiled water being extracted).
Heavily-soiled traffic lane carpet in commercial environments pre-treated with a suitable prespray benefit enormously from the Powermate. Leave the soiled area for up to five minutes, turn on and run the extraction pass using a carpet rinse detergent.
OTHER ARTICLES IN THIS SECTION