ARTICLE
Lessons in hand hygiene
16 January 2015
Kimberly-Clark Professional has extended its Hand Wash Heroes resources to help schools and nurseries educate children about good hand hygiene as a critical part of food preparation.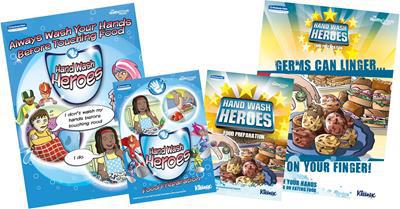 The new materials will support teachers and staff following the renewed focus this year on practical cooking in the National Curriculum.
Hand Wash Heroes is part of The Healthy Schools Project from Kimberly-Clark Professional, a wellness programme that brings together hand hygiene solutions and education resources to help improve pupil and staff wellbeing in the education environment. Products are specially designed for use by children such as soap with smaller shots for little hands and easy-to-use hand towel systems that help control usage. Participating schools are also given access to educational materials designed to engage and motivate pupils, teachers and staff to help reduce the spread of germs by learning about the importance of good hand washing.
"Today children are encouraged to handle and prepare food more and more, both in the classroom and at home for fun. It is, therefore, important to teach them about the importance of hand hygiene as part of that," explains Dr. Louise Vickerman, EMEA target market manager – education, Kimberly-Clark Professional. "The new resources are an extension of the existing Hand Wash Heroes lessons or can be used as a standalone tool to support food preparation activity."
OTHER ARTICLES IN THIS SECTION