ARTICLE
Multifunctional sweeper
16 October 2014
Hako Machines have expanded their range of outdoor cleaning equipment with the new Citymaster 1600, which is both a sweeper with articulated steering and a multifunctional implement carrier.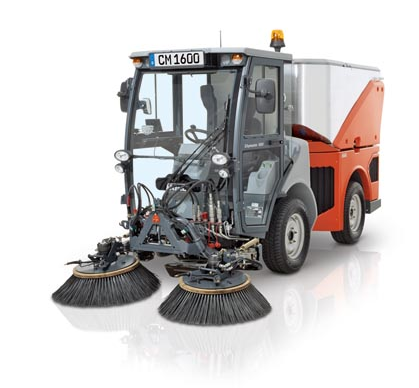 The machine's articulated steering and extreme maneuverability mean that the sweeper can be used in narrow areas easily. With its permissible total weight of 3.5t, drivers holding a Class B driving license may operate the Citymaster 1600 not only in the city on footpaths without any restrictions, but additionally in all paved areas; covering the entire range of services usually attributed to a larger sweeper.
Operator comfort is at the forefront of the design; the full suspension state of the art chassis with spring coils and shock absorbers, the spacious cabin and air conditioning all contribute to this. Inside the cabin, the operator will find a panoramic windscreen, a multifunctional display with a one button operation in sweeping mode and an intuitive menu navigation. The functions are controlled via a one hand operating panel integrated into the armrest.
The Citymaster 1600 is equipped with an intelligent quick change system, as well as the hydraulic, electrical and mechanical attachments required for applications including sweeping, mowing and snow clearing. The operator is able to change all of the machines functions and attachments quickly and easily, without the use of tools.
The intelligent hydraulic drive in transport mode, along with the hydraulic system in work mode, continuously provides the exact power required to carry out the job. This reduces fuel consumption, resulting in higher economic efficiency and reduced environmental pollution.
OTHER ARTICLES IN THIS SECTION