ARTICLE
Ride-on scrubber dryer
02 March 2016
The arrival of the Scrubmaster B75R, with its total operating width of 76cm, marks Hako's first foray into the compact ride-on scrubber dryer market.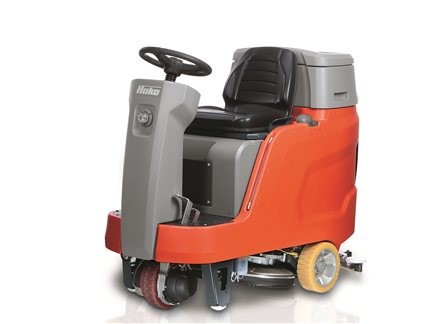 Suitable for working in tight spaces, including work environments such as shops, hotel foyers and car showrooms, the machine's short wheelbase enables it to make a complete U-turn in aisles as narrow as 1.79m.
Hako sales director Sylvie Giangolini said: "The market for more compact ride-on cleaning equipment is becoming increasingly important.
"With the launch of the B75R, customers looking for a professional cleaning solution for tight spaces and smaller floor areas can count on the same levels of innovation, reliability and performance associated with our larger machines."
Whilst it may be compact in size, the B75R isn't short on features. In common with its larger Hako stablemates, it maintains the company's tradition of delivering products that are powerful, efficient and easy to use and maintain.
Standard features include an integrated on-board charger with an easy-access mains lead and a large digital display showing run-time hours, battery charge and fault code data.
Meanwhile, on-board diagnostics can be accessed via the Hako Engineer software or by a diagnostic wiring lead, whilst the machine's competitive 90- to 110-minute run time is made possible thanks to the use of four state-of-the-art 180 A/h maintenance-free gel batteries. This machine has 75-litre capacity solution and recovery tanks.
Features designed to make life easier for the operator and reduce time spent on essential maintenance include a foot-operated brush discharge system, and a screw-in cap to the recovery tank cover to enable easy removal of any debris, coupled with an easy-access, obstruction-free design facilitating easy cleaning.
The machine also features live water-filter cleaning to allow the filter to be cleaned without having to drain the tank, a two-speed travel-to-work mode, and a visual gauge showing brush or pad wear.
An extensive range of optional 'extras' are also available, including automatic filling, automatic chemical dosing, a wet spray pick-up tool and a stainless steel recovery tank debris tray for use in heavily soiled environments, and a washdown pump. The machine can also be specified with a slightly wider, 86cm squeegee.
OTHER ARTICLES IN THIS SECTION