ARTICLE
Hybrid floor squeegee
30 June 2014
The Hybrid floor squeegee is one of Moerman's latest innovations for professional floor cleaning, proudly launched at the ISSA/INTERCLEAN show in Amsterdam.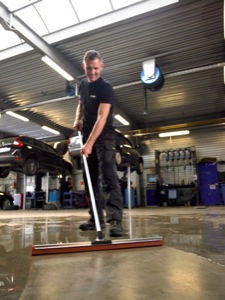 This unique floor squeegee is the perfect combination of metal and plastic. A floor squeegee with a heavy duty - double waterrim - metal frame, with a plastic threaded socket.
This squeegee is especially designed for heavy duty cleaning jobs and offers superior user-friendliness thanks to the threaded handle. No tools are needed to fix a handle to the floor squeegee!
As always, Moerman also makes the difference with its excellent natural Dura-FlexRubber
natural rubber: the best rubber for floor squeegee applications and repetitive use on both smooth and uneven surfaces
excellent elasticity: after using the Moerman squeegee, the floor is "finger-dry", no water traces are left behind! The absence of water reduces the chance of cross-contamination
closed cell rubber: gives better wiping results. The Moerman closed cell Dura-Flex rubber also avoids absorption of water and liquids and it prevents bacteria from harbouring inside the moss rubber
The inside skin makes the rubber more tear and wear resistant and guarantees a perfect wiping result
The Moerman Hybrid Squeegee will be available in 45 cm / 55 cm and 75 cm.
OTHER ARTICLES IN THIS SECTION