ARTICLE
Visit Moerman at ISSA (Hall 3, booth 105) and see what more they have to show after the release of the Combinator!
18 March 2016
Moerman's latest addition to its ProClean family of products, the Combinator, is an innovative combination tool designed from the ground up using the company's E.A.S.E. (Efficiency, Amazing results, Safety and Ergonomics) design principles.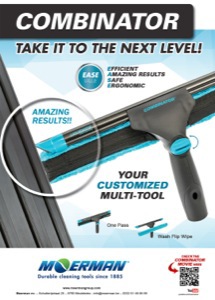 Created to save you time and make you more money, it is an ergonomic, lightweight and versatile system that is great for pole work, residential and store fronts. Component based, it allows you to customise the tool to your needs and budget.
"You can use Combinator in our One-Pass configuration for maximum performance and time saving or in the traditional Wash-Flip-Squeegee configuration," says Moerman. "Use Combinator as a handheld tool or on your extension handle, either way you will see amazing results!"
The company adds: "The shape of the Combinator premium microfibre sleeve allows the Liquidator channel to get to the edges of the glass for perfect, detail-free drying and reduces the overall weight of the tool while delivering the perfect amount of cleaning solution and scrubbing power.
"Once you try it we think you will agree that you simply can't buy a better combination tool than the Combinator. Check the YouTube video to see how to customise your Combinator to your needs!"
OTHER ARTICLES IN THIS SECTION