ARTICLE
Window cleaning tool
15 December 2015
The latest addition to Moerman's ProClean family of products, the Combinator tool, has been designed using the E.A.S.E. principles of Efficiency, Amazing results, Safety and Ergonomics.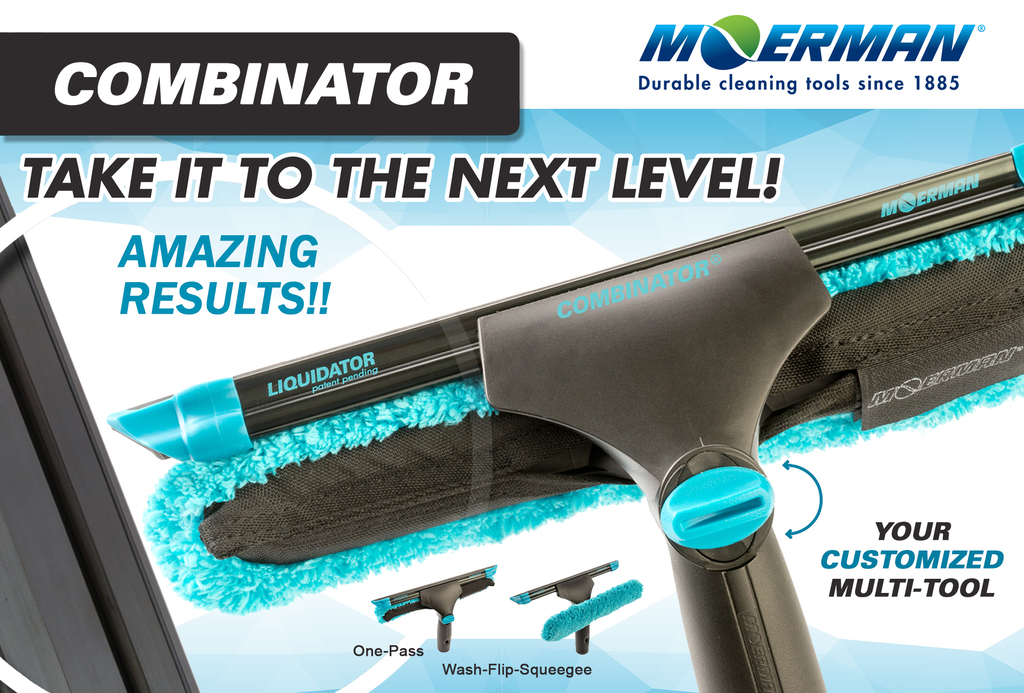 Created to save time and money, the Combinator is an ergonomic, lightweight and versatile system that is said to be great for pole work, residential and store fronts. It is a component based system which allows you to customize the tool to your needs and budget.
The foundation of the system is the Combinator squeegee handle. The hole in the middle of the squeegee handle is designed to accommodate the T-bar components. The T-bar components can be purchased separately which can reduce your investment in tools as one squeegee handle can be fitted with a variety of T-Bar/Sleeve sizes. But you can also use the Combinator handle as your daily squeegee handle by inserting the soft rubber ring (included) into the handle and attaching your Liquidator channel.
To convert to a combination tool, simply insert the T-Bar (10", 14", 18") and turn the lock button a couple of clicks. You can use Combinator in the One-Pass configuration for maximum performance and time saving or in the traditional Wash-Flip-Squeegee configuration. Use Combinator as a handheld tool or on your extension handle for impressive results.
The design of the washing sleeve is intended to make it lighter than other combination tools. According to Moerman, most combination tools use a standard washing sleeve where only half of the sleeve is usable, so the additional sleeve material holds extra solution and needless weight. The shape of the Combinator premium microfibre sleeve allows the Liquidator to get to the edges of the glass for impressive detail-free drying. It also reduces the overall weight of the tool while delivering the right amount of cleaning solution and scrubbing power.
Combinator safely locks onto Moerman extension handles and is easily stored in your Moerman side bucket.
OTHER ARTICLES IN THIS SECTION