ARTICLE
The ultimate squeegee
24 June 2016
Already branded as being the fastest squeegee in the world according to Moerman, the EXCELERATOR is a new window cleaning handle in the Moerman Proclean product range.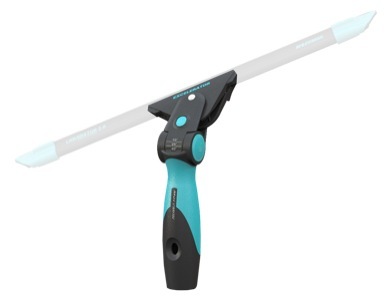 It has been designed wíth and for professional window cleaners according to the EASE value philosophy (Efficiency, Amazing Results, Safe and Ergonomic).
Moerman describes it as the most complete tool for traditional window cleaning, for handheld cleaning as well as pole assisted cleaning. Whether you're a fan of cleaning with a rigid or pivoting squeegee, the EXCELERATOR has it all, allowing you to excel and accelerate.
You can set up the EXCELERATOR in a 10°, 25° or 40° angle depending on the type of window frame, window height, possible obstacles, challenging angles or just your personal preference. The angle selector makes it easy to strive for that no-detailing-needed edge.
The reason why the EXCELERATOR is proclaimed as being the world's fastest squeegee is thanks to its extreme responsiveness. With the slightest twist of the handle, the squeegee blade immediately follows direction, chasing for the flawlessly clean window. The EXCELERATOR also has more channel spread which allows you to cover the window even faster. Used as a rigid squeegee it evenly distributes constant pressure along the channel.
Check out more on YouTube channel youtube.com/moermannv
OTHER ARTICLES IN THIS SECTION