ARTICLE
Top marks for OCS staff at Tata Steel
02 June 2014
Three cleaning supervisors and a business administrator, employed by international total facilities management provider OCS at Tata Steel in Scunthorpe, have shown 'steely' determination in achieving valuable professional qualifications which have enabled them to complete their apprenticeship.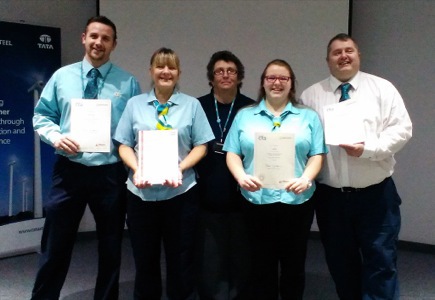 OCS cleaning supervisors Adam Fudge and Vince Hawksworth successfully completed their Team Leading Level 2 qualification, while fellow supervisor Diane Burton achieved her City & Guilds Level 3 Cleaning Services Supervision qualification. Also enjoying a taste of success is Ella Day who completed her Business Administration qualification Level 2 and is now working towards a further Level 3 qualification.
Jane Sheard, UK managing director of facilities services at OCS, commented: "It is very important for the employee and the employer to work together to embrace continuous learning. When this happens it is a powerful combination. Diane, Adam, Vince and Ella have all worked extremely hard to achieve their qualifications. This will reap great reward, both in terms of personal development and delivering a quality service for the client."
Since 2009, OCS has provided a range of specialist cleaning services at Tata Steel in Scunthorpe, from the medical centre to the mess rooms, and also provides catering services at three of the site's units.
OTHER ARTICLES IN THIS SECTION