Evans product launch in support of children's charity
09 March 2015
Evans Vanodine is delighted to be launching a new, limited edition, cleaning product in association with Derian House Children's Hospice.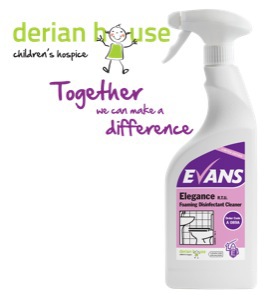 Situated in the heart of Lancashire, Derian House is renowned throughout the region as being at the forefront of children's palliative and respite care. Families who have a child with a life shortening condition can choose from a range of support services to meet their individual needs which include short planned breaks in Derian House, Day Care, Derian at Home, Family Support and end of life care, either at home or in Derian House.
Elegance is a foaming disinfectant cleaner which comes in a ready to use 750ml trigger spray. It removes general soiling and disinfects in one operation, it passes EN 1276 and kills a variety of bacteria including E.coli and MRSA. It is a neutral pH formulation, making it an ideal choice for washrooms and its delicate floral fragrance will help to enhance your environment.
A donation from the sale of every bottle of Elegance will be made to Derian House and Evans is immensely proud to be working with this amazing charity to help them towards their £3.5 million target for this year.
OTHER ARTICLES IN THIS SECTION