ARTICLE
Sanibin®
15 May 2013
Designed to offer quick and easy servicing, the unique range of bins are sleek in design, making them simple to wipe down without dirt traps.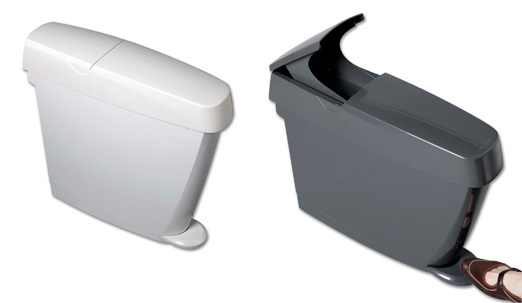 All products also include a robust carrying handle for easy relocation of multiple bins. The products also offer end users a comfortable, easy to use feminine hygiene solution, with a front opening flap and large wrap around pedal.
Contemporary design, with family cues
Robust carrying handle for reduced service time
Clean white or discreet grey finish
Wall mounting bracket for easy floor cleaning
Large 20 litre capacity for reduced servicing or compact 15 litre design for tight applications
Engineered with robust performance in mind and manufactured from tough ABS
Discreet, low friction modesty flap
Tool free security access
Large, wrap around pedal for simple activation
Front opening flap for positioning flexibility
Bag tidy for discreet liner use
Feminine Hygiene Consumables
In addition to the Sanibin® range, a choice of Sanibin®lining bags and easy to dispense freshening granules help keep washrooms clean and fresh and make service visits quick and easy are also available. Combine these with our disposal bags and wall mounted dispenser to offer your customers leading service solutions.
OTHER ARTICLES IN THIS SECTION