ARTICLE
Mirius identified as ninth fastest growing chemical company in the UK
16 January 2020
Mirius, one of the UK's leading manufacturers of professional cleaning and hygiene products, has ranked ninth in the Alantra Chemicals and Coating Industry Fast 25.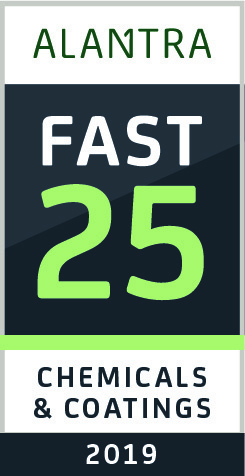 The chemicals industry makes a crucial contribution to the UK's economy. With annual sales in excess of £40billion, the sector accounts for around 10% of the value added by the whole of UK manufacturing, according to the Chemical Industries Association.
The Alantra Chemicals & Coatings Fast 25 celebrates the success of this industry – specifically, the privately-owned companies headquartered in the UK that are generating much of the sector's rapid growth.
Mirius's commercial director, Darren Langdon, said: "In a sector that might have been expected to struggle with a combination of macro headwinds, from the slowing global economy to Brexit and industry-specific issues such as regulation and the need for greater sustainability, Mirius's rising position in the list is a highly impressive achievement and highlights our impressive 20% growth in 2019."
Mirius, formerly known as Coventry Chemicals, rebranded in June 2018 to better reflect its strong manufacturing position as a global market leader in own label and professional cleaning products. The business continues to lead the field as a highly innovative Coventry based manufacturer specialising in product excellence and sustainability.
Darren Langdon, said: "Mirius has once again demonstrated remarkable consistency as well as outstanding performance it's no wonder that our products and expertise are in such high demand throughout the UK and the rest of the world."
With double digit growth forecasted for the coming year the business is firmly on track to once again move up the Alantra Fast 25.
OTHER ARTICLES IN THIS SECTION