Home
>
Mirius makes The Sunday Times league table
ARTICLE
Mirius makes The Sunday Times league table
27 June 2019
Mirius are proud to announce they have been placed 67th in the coveted 2019 Sunday Times 100 Fastest Growing SME Exporters league table.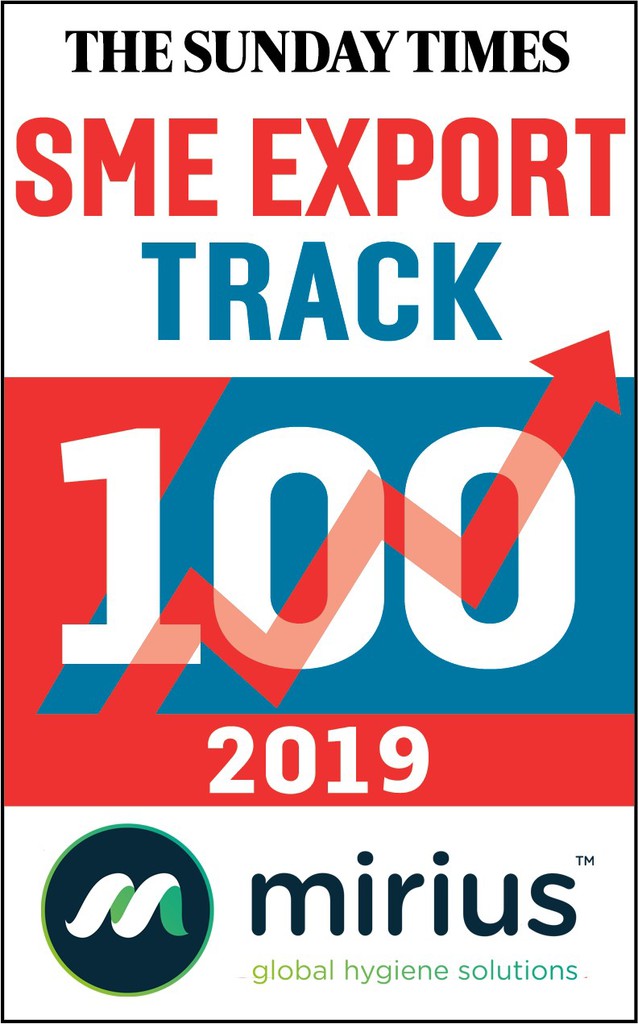 This prestigious table ranks Britain's 100 small and medium-sized (SME) companies with the fastest-growing international sales over the last two years. Only 11 businesses within the Midlands region have been voted into the top 100. The league table illustrates how British companies are increasingly looking beyond traditional export markets for growth, with Mirius now exporting to over 80 countries worldwide.
Mirius, formerly known as Coventry Chemicals, rebranded in June 2018 to better reflect its strong manufacturing position as a global market leader in own label and professional cleaning products, along with its internationally renowned range of healthcare and hygiene solutions.
In March, it launched what is claimed to be Europe's first cleaning products trigger spray bottle made entirely from 100% recycled plastic (rPET) and was rewarded with two of the highest accolades within the industry - The CSSA Cleaning 'Products Innovation Award' and the 'Best of the Best Award' at the London Cleaning Show. As an own label manufacturer for some of the largest facilities management companies and supermarkets in Europe, the new 100% Recycled Plastic bottles will be available in-stores shortly, ushering in a new era of sustainable and recyclable cleaning products and packaging.
Mirius's CEO, Steve Quinlan, said: "As a high-growth company that retains its entrepreneurial spirit, The Sunday Times SME award and our recent awards for recyclability & sustainability illustrate we are perfectly positioned to seize emerging opportunities. These awards showcase to the world what we truly offer in terms of innovation, commitment to manufacturing excellence and environmentally friendly products."
Liam Fox, secretary of state for International Trade, added: "SMEs are fundamental to achieving our target of increasing exports as a percentage of GDP to 35 per cent, so it is vital we give them the recognition they deserve. The exporters listed in this year's SME Export Track 100 are pioneers whose example should be followed by ambitious businesses across the UK."
Mirius continues to lead the field as a highly innovative manufacturer, specialising in product excellence and sustainability. With double digit growth forecasted for the next few years the business says that it is on target to outperform all of its competition within the sector.
RELATED ARTICLES
No related articles listed
OTHER ARTICLES IN THIS SECTION