ARTICLE
Pressure washers clean up primary school
12 June 2019
Kärcher has joined forces with Keep Britain Tidy, the national independent environment charity, to bring the ultimate spring clean to a local walkway near Gosford Primary School in Coventry.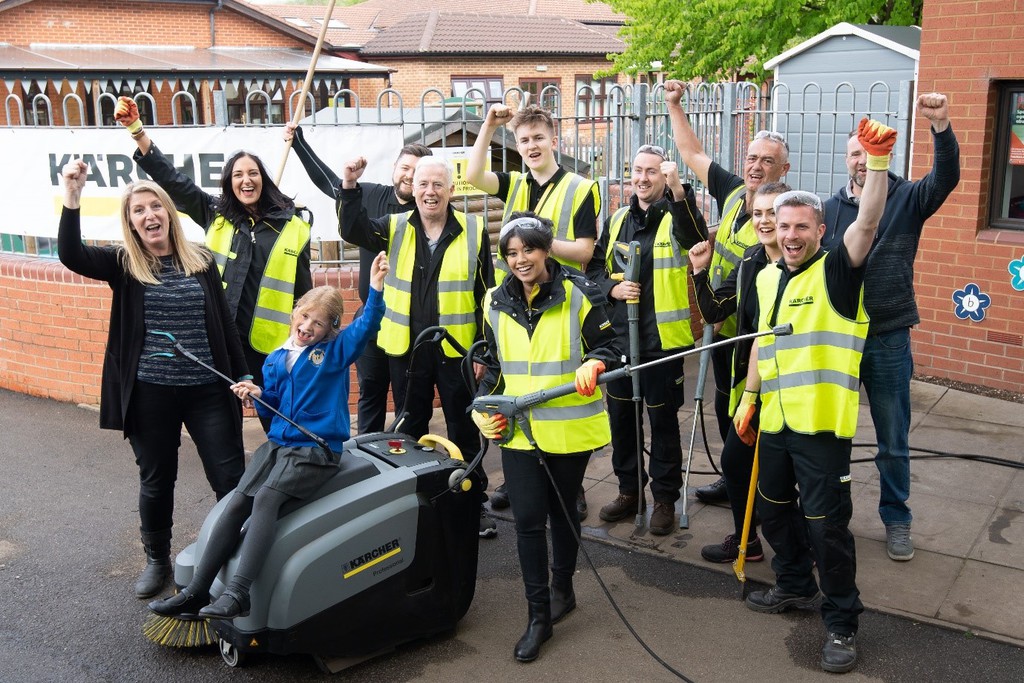 The team of leading cleaning experts visited the site with Kärcher HD/HDS hot and cold pressure washers, as part of a bid to restore community pride and boost emotional wellbeing.
The Gosford Primary School was selected for the 'Kärcher Clean' after local campaigner Emma Aspinall put forward the area as part of Keep Britain Tidy's 'Great British Spring Clean' competition. The competition, which ran across the Kärcher UK social channels, urged followers to nominate sites in their town which were in need of some TLC.
The competition was launched after Kärcher's research revealed that the cleanliness of a community has a significant impact on the emotional wellbeing of its local residents. Kärcher found that 95 per cent of people said that living in a clean area made them feel proud of their community.
Emma, who is a Coventry Keep Britain Tidy Litter Hero and mum to seven-year-old Zoe and 13-year-old Sadie, nominated the walkway leading to Gosford Primary School to receive a 'Kärcher Clean' after spending years organising litter picks in the area. The walkway is used by hundreds of school children, students and workers every day and the clean will have a big impact on the local community.
Jack Sweeney, marketing director at Kärcher UK, said: "We were really impressed by Emma's application and are delighted to be in Coventry helping to restore pride in this incredible community."
He added: "We hope that having a clean route to school will have a positive impact on their day and we have really enjoyed working with all the volunteers to give the space a real 'Kärcher Clean'."
OTHER ARTICLES IN THIS SECTION