Mirius wins Coventry Business Excellence Award 2019
09 October 2019
Mirius have won the award for Export sales at this year's Coventry Business Excellence Awards.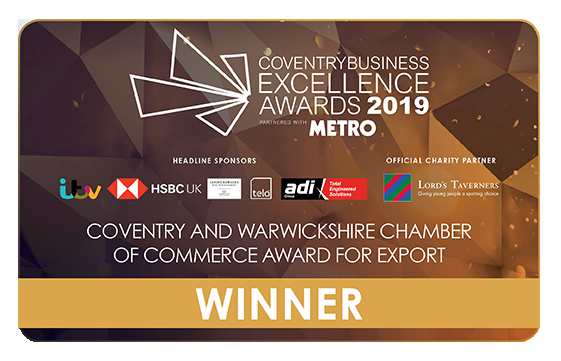 Recognised for its disruptive approach to industry marketing, product development and its continued growth in Export sales, the judges were impressed with Mirius's corporate strategy and most recently its rebrand from Coventry Chemicals to Mirius – Global Hygiene Solutions.
Chris Richmond, head of marketing at Mirius, said: "Winning at the Coventry Business Excellence Awards is testament to the team's continued hard work and dedication. With more than 55 years' manufacturing experience, we're hugely proud of our Coventry roots and consider it a real honour to be recognised by our peers."
Over the past 12 months, Mirius has redesigned much of its product offering, moved into new markets and categories and further expanded its product offerings.
Richmond continued: "We believe that industry disruption and continued innovation plays a driving role in our commercial success and this has been born out in our near 20% sales increase in the last year. The momentum of the group's business improvement programme has gathered pace through 2018, exemplified by the rebranding of the group's corporate identity."
Mirius believes that 2019 is on track to be another highly successful year for the business with further improvements in profitability and sustained growth across its three business divisions – Retail, Professional and Healthcare.
This award follows on the back of a number of accolades for the business this year, including the CSSA Cleaning 'Products Innovation Award' and the 'Best of the Best Award' at the London Cleaning Show. Most recently the business was placed 67th in the UK's fastest growing export businesses by The Sunday Times.
Mirius says that it continues to lead the field as a highly innovative Coventry based manufacturer, specialising in product excellence and sustainability. With double digit growth forecasted for the next few years the business says that it is on target to outperform all of its competition within the sector.
OTHER ARTICLES IN THIS SECTION