ARTICLE
Trains on track with back-pack vacs
19 October 2017
Fast turnaround of rolling stock is essential to maintain the busy rail network schedules operated by Greater Anglia Trains across the East of England with key commuter links to London.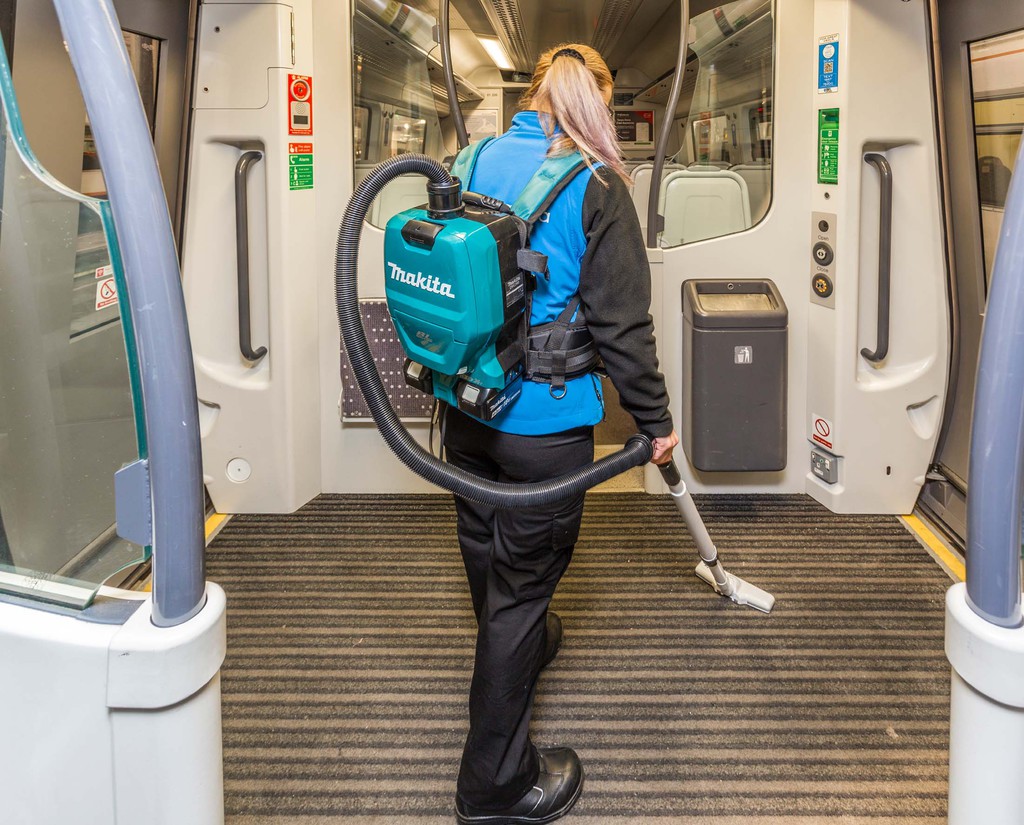 Makita's back-pack battery powered vacuums have recently been introduced to speed up the cleaning process and to reduce the physical burden on the cleaning staff previously equipped with cumbersome mains powered vacs.
"It is essential that our trains are cleaned to a very high standard at Greater Anglia. The new Makita back-pack vacs are giving us improved cleanliness levels, faster coverage and much easier operation. We are able to be more detailed when we clean especially areas like seats and edges," Jonathan Shakallis, presentation operations manager for Greater Anglia, said.
Makita's extensive knowledge of air flow and vacuum science, coupled with the proven Lithium-Ion battery platform, is integral in the new twin 18v Back-pack vacuum cleaner, which can be used with 3.0Ah, 4.0Ah and 5.0Ah Makita batteries with respectively 22, 36 and 45 minute rapid recharging periods.
On the Makita DVC260 back-pack vacuum cleaner the two 18v Li-Ion batteries are directly housed on the machine to power the 36v DC Brushless motor which produces 45watts of suction power, with a maximum airflow of 1.5m³/min, and maximum sealed suction of 7.1kPa. The HEPA filter can be easily removed for cleaning. The high/low power selection is positioned on the machine control unit and two 5.0Ah batteries give 60 minutes run time in high mode, 90 minutes in low mode while the dust bag capacity is a generous 2.0 litres.
Weighing just 4.3kg, and supplied with a full brace harness, with waist and shoulder belts for ease and comfort, this quiet-running back-pack vacuum has a lightweight 28mm suction hose, telescopic straight pipe with 500-850mm length adjustment, and a flexible rubber nozzle suitable for cleaning uneven surfaces. Greater Anglia has introduced an initial consignment of 11 machines for their train cleaning operations and testing the vacuums with other services.
Jonathan Shakallis added: "The cordless vacuums are easy to manoeuver and lightweight, and they have helped to improve our efficiency and reduce the physical efforts of our staff. We find the twin batteries give us plenty of run-time on maximum suction which has improved our turnaround time. We are also seeing an improved level of cleanliness for our passengers and this is reflected positively in our Customer Service scores."
OTHER ARTICLES IN THIS SECTION