ARTICLE
Hygienic bin liners
18 August 2017
A large order for Cromwell Polythene's new Sansafe 30L hygienic anti-microbial bin liners has been dispatched to Austria for use in washrooms throughout the capital, Vienna. A total of 90 of Sansafe 30L liners cases consisting of 900 rolls, or 22,500 bags, was sent.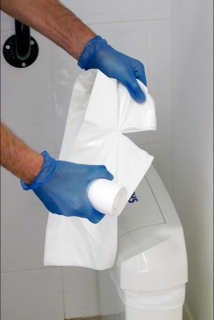 It is the latest in a string of new orders for Sansafe bin liners – demand has been increasing since the products were relaunched with a new anti-microbial formula at the end of 2016. Building on the success of the original Sansafe liners, the new products boast Biomaster anti-microbial technology, providing protection against harmful bacteria including E. coli.
The Biomaster active antimicrobial technology is added at the point of manufacture, during the film extrusion process. Sansafe liners are said to save operatives time and money by reducing the need to use separate anti-microbial/bacterial products during waste collection and disposal. They can also support a facility's infection prevention and control programme.
Well-suited for use in the healthcare, waste management and janitorial sectors, the new Sansafe bin liners are tested to ISO22196 and made from 30% recycled high-density polyethylene. An enhanced scent additive – Scentmaster pine tree fragrance – helps mask unpleasant odours, both inside and outside the liners.
Measuring a generous 615mm x 590mm, the liners fit most 30-35 litre bins, while the white opaque film helps obscure the contents for discreet removal. The liners are packed in rolls of 25, with 10 rolls per carton, and a guaranteed net box weight of 2.86kg.
OTHER ARTICLES IN THIS SECTION