ARTICLE
Back-pack vacuum cleaners
16 August 2017
Makita back-pack vacuum cleaners are now part of the inventory of Enhance Office Cleaning in Bromley, Kent. The specialist commercial cleaning company serves primarily the Central London area, and its contracts include prestigious financial and legal firms and charities.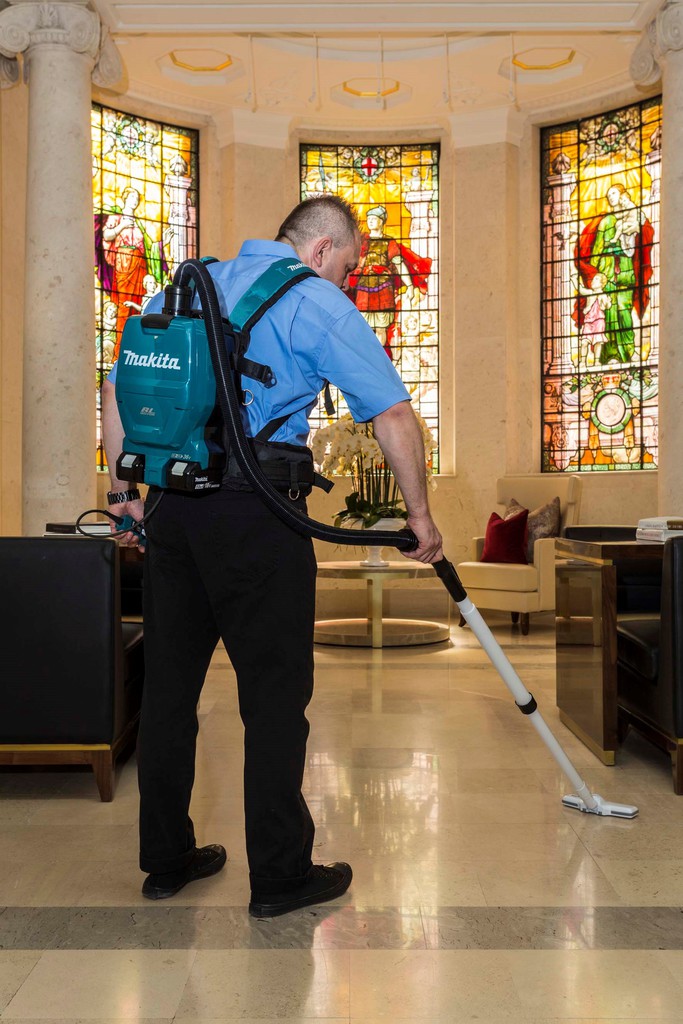 Over the past six months, Enhance has been evaluating which cordless back-pack vacuum cleaners would be the best to roll out across the company's many sites.
"We have looked at vacuums manufactured here in the UK, in Australia and various other countries," said Spencer Hawkes, general manager, Enhance Office Cleaning. "The procurement process compared battery life and charge time, weight, noise and vibration levels, suction power, ease of use and, crucially, cost. The Makita DVC260Z performed excellently in all of these areas at a price point that was extremely attractive so we have introduced this vacuum into our equipment range and it is currently being rolled out across our sites."
Makita,the professional power tool manufacturer, entered the commercial cleaning sector in 2016 with two new vacuum machines which join an extensive range of mains and cordless dust extraction units, cordless vacs and air blowers for a wide range of industries from construction to grounds care and property maintenance.
The company's extensive knowledge of air flow and vacuum science, coupled with the proven Lithium-Ion battery platform, is integral in the new twin 18v back-pack vacuum cleaner. The technical merits of this cleaner are designed to enhance the performance and productivity of contract cleaning operations in many commercial properties. It is supplied in body only form for operators to efficiently use the batteries from their existing Makita tools. Distributors can supply 3.0Ah, 4.0Ah or 5.0Ah Makita batteries with respectively 22, 36 and 45 minute rapid recharging time, as well as single-port chargers, or twin-port chargers, to facilitate two batteries being charged in parallel for improved productivity.
The Makita DVC260Z back-pack vacuum cleaner uses two 18v Li-Ion batteries directly housed on the machine to power the 36v DC Brushless motor, for high power and extended run-times, which produces 45 watts of suction power with a maximum airflow of 1.5m³/min and maximum sealed suction of 7.1kPa. The HEPA filter can be easily removed for cleaning.
The high/low power selection is positioned on the machine control unit and two 5.0Ah batteries give 60 minutes run time in high mode, and 90 minutes in low mode. Dust bag capacity is a useful 2.0 litres. Weighing just 4.3kg, and supplied with a full brace harness with waist and shoulder belts for ease and comfort, this quiet-running back-pack vacuum has a lightweight 28mm suction hose, telescopic straight pipe with 500-850mm length adjustment, and flexible rubber nozzle suitable for cleaning uneven surfaces.
"Our staff have responded extremely well to the introduction of this new Makita product and are reporting back positively on its comfort, fast charging time, great suction power and low noise levels," Hawkes said. "Happy staff results in happy clients so we are delighted with our purchasing decision and look forward to working with Makita for many years to come."
OTHER ARTICLES IN THIS SECTION