ARTICLE
Aerosol Dispensers
15 May 2013
A choice of high quality, stylish dispensers offer many features including standard timed options, full programmability and compact sizes along with a 5 year product guarantee, allowing you to offer a tailored fragrance solution to meet your customers' needs.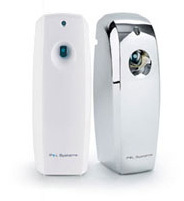 Fully Programmable, LCD Dispensers
Allowing flexible fragrancing, LCD dispensers give complete control, delivering a customised solution for all applications. Easy to programme, the LCD range allows fragrances to be dispensed on selected days of the week, and at selected time periods, matching your customers needs exactly and maximising the life of fragrances.
Pre-programmed, LED Dispensers
Ideal for high traffic areas, LED dispensers offerquick to installfragrance dispensing solutions with pre-programmed, easy to select settings of 7.5, 15 or 30 minutes. Available in chrome or white, the classic design isperfect for contemporary and classic washrooms alike.
OTHER ARTICLES IN THIS SECTION