ARTICLE
Fragrances
15 May 2013
P+L Systems Washroom have developed a beautifully designed range of fragrances to offer our customers a range of fragrancing solutions to suit all applications, from the distinctive premium oils used in the Precious and Concept ranges which create rich, evolving scents, to the evocative Classic and powerful Fruits + Flavours ranges.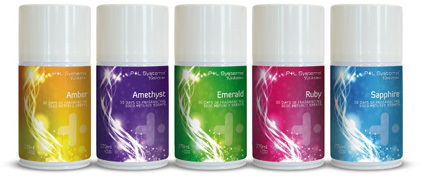 Precious
The Precious range of fragrances has been developed to offer a range of luxurious environment enhancers. Each fragrance is rich and distinct, and evolves throughout the day offering a carefully selected blend of aromas to capture the senses. Using a high percentage of essential oils, the Precious range is designed to offer both sophistication and intensity. Working closely with key fragrance partners, P+L Systems Washroom has used its extensive knowledge of fragrance development to create this unique range of premium fragrances.
Concept
Made up of six luxurious fragrances, the Concept range offers beautifully layered, balanced fragrances, using high quality oils to create sumptuous scents for your washroom and front-of house areas which continue to develop throughout the day.
Classic
A comprehensive range of your favourite fragrances, offering an evocative fragrance for every application. From fruity scents to light florals, rich coffee to fresh baby powder, the Classic range offers a choice of fragrances to suit many areas, from the lobby to the washroom, making customers feel special at every opportunity.
Micro
Petite but punchy, the Micro range includes your favourite Classic range fragrances in a compact 100ml design, delivering fantastic fragrances into discreet or space conscious environments. The extensive choice of fragrances ranges from mouth watering green apple to the clean smell of fresh linen, summer florals to zesty clementine.
Fruits + Flavours
The P+L Systems Washroom Fruits + Flavours fragrance range provides contemporary fragrancing for the cost sensitive customer and is ideal for use within washrooms or other problem areas. The Fruits + Flavours range incorporates high quality P+L Systems Washroom oils to deliver reliable and effective fragrancing.
OTHER ARTICLES IN THIS SECTION