ARTICLE
Solution kills up to 99.999% of microorganisms
31 August 2016
Robert Scott & Sons have announced an agreement with Centrego to work together and promote the range of E.C.A (Electro Chemical Activation) products into the janitorial cleaning sector.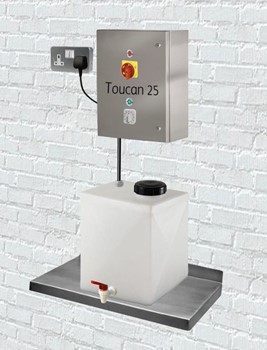 The Toucan range is a system which creates an eco-friendly, chemical free, low cost cleaning solution 'NEW Solution' that is proven to kill up to 99.999% of microorganisms such as E.coli, Salmonella, Staphaureus, MRSA, Listeria and Bacillus subtilis.
Centrego design and manufacture the Toucan system. NEW Solution is created by combining a small amount of salt with tap water through the process of Electro Chemical Activation. This is said to be highly cost effective, eco-friendly and safe. NEW Solution can be used to clean and disinfect a wide range of areas such as schools, nurseries, office blocks, hotels, pubs, shop, public buildings etc. It is also proven to be effective at cleaning and disinfecting all hard surfaces and will remove stains from carpets and fabrics.
Robert Scott and Sons recognise the potential that this product can have within the janitorial cleaning industry, and is working closely with Centrego to offer their contacts, resources and knowledge of the market.
Alastair Scott, sales director Robert Scott & Sons, said: ''By combining the strengths of both our companies, we are confident that the operational, environmental and commercial benefits of using ECA systems in cleaning and disinfecting tasks can be more widely promoted resulting in cleaner, safer and more cost effective workplace environments.''
OTHER ARTICLES IN THIS SECTION