ARTICLE
Floor squeegees from Moerman
17 December 2013
Moerman has been in business since 1885 and is considered the world leader in floor squeegee production.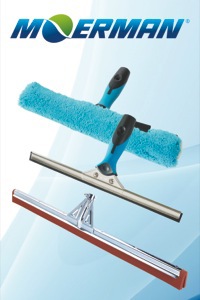 The company's natural Dura-flex rubber is said to be the best rubber in the world and offers excellent 'finger dry' wiping results coupled with superior durability. Therefore for decades Moerman floor squeegees have been considered the universal benchmark in the cleaning industry.
Our floor squeegees are designed to last longer and give customers long-term benefit. Therefore we have developed a rubber for every specific use.
general purpose black moss rubber: for cleaning areas where oil and heat resistance is not required
white moss rubber: for the hygienic use (hospitals, swimming pools etc.) when it is important that users can see when the squeegee needs to be replaced
neoprene red rubber: resistant to heat, chemicals, acids, oils, fats, greases, gasoline, sea-water and many solvents
HACCP green moss rubber: made with FDA-approved materials, especially developed for areas where hygiene is of utmost importance (food processing industry etc.)
Our floor squeegees can be used on all kinds of surfaces: brick, tiles, vinyl, concrete, marble and wet deck floors. The squeegees dig into tile grouts, removing all dirt from the floor and leaving the surface clean and dry.
Our objective is not only to remain the market leader in floor squeegees but also to conquer a deserved place in the window cleaning market. In order to achieve this target, we used all our knowledge of rubber compounds, experience and skills in product design to develop a product line of professional window cleaning tools.
We recently launched our new PROCLEAN window cleaning range, including all tools and features which are essential for professional users: window squeegees, window washers, telescopic handles, buckets, tools holders, scrapers and dusters.
The new ProClean Range is the result of more than two years of hard work in development and design. ProClean tools are made of prime quality materials and meet every expectation of performance, durability and ergonomics. Moerman is committed to continuous product development always keeping in mind its motto: "Durable tools that perform!"
OTHER ARTICLES IN THIS SECTION