ARTICLE
Claim free access to Jangro's award-winning training modules
25 April 2016
Jangro, the UK's largest network of janitorial supply companies, has launched a brand new website for its award-winning suite of training modules.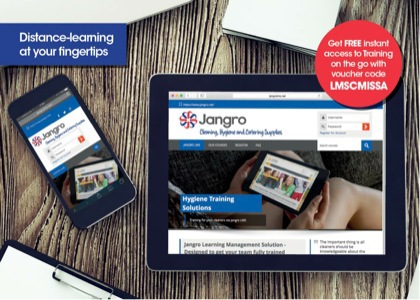 To celebrate, Jangro is giving potential and current customers the chance to download the training modules free of charge with a special voucher code.
Through the 'Learning Management Solution' (LMS) website, companies can ensure all staff are fully trained in correct products and working procedures following a quick and easy online registration process, entering the code LMSCMISSA for exclusive access.
The system works remotely so it can be carried out at times to suit the user, covering everything from 'Kitchen Hygiene' and 'Carpet Care' to an 'Introduction to Cleaning' and 'Housekeeping'.
The distance-learning programme originally launched in 2012 and consisted of eight different modules with two more being introduced last year by popular demand.
Each module has a different operating time, varying from 50 to 90 minutes. The training programme also allows for employers to monitor the progress of each employee.
Jangro's LMS training modules include: Introduction to Cleaning, Control of Substances Hazardous to Health (COSHH) Awareness, Introduction to Equipment, Kitchen Hygiene, Carpet Care, Washroom Hygiene, Floor Care, Housekeeping, Colour Coding and Infection Control and Health and Safety.
The LMS modules can be accessed at http://jangrolms.net by entering the code LMSCMISSA.
OTHER ARTICLES IN THIS SECTION