ARTICLE
Jangro training expands
28 February 2014
Jangro, the UK's largest network of 41 independent janitorial supply companies, is once again leading the way in products and compliance within the industry.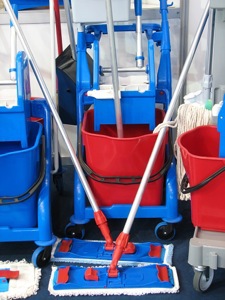 This is not only with its range of 4,000 products, but its popular eLearning suite of training modules called Jangro LMS (Learning Management Solution).
Last year Jangro produced eight modules, which included COSHH, Health and Safety, Colour Coding and Infection Control, Carpet Care, Kitchen Hygiene, Floor Care, Introduction to Equipment and Washrooms. A further two new modules are currently being produced which will cover Housekeeping and an Introduction to Cleaning. Additional programmes are to be announced later this year.
Costing a mere £0.99p per user, per module; these important and essential programmes represent the best value and most convenient way to train cleaning staff.
Joanne Gilliard, Jangro's operations director, said: "The popularity of our low cost, user friendly training programme has been tremendous. We are urgently developing new topics to meet customer demand."
Throughout the Jangro LMS modules there are handy reference guides and downloads that include COSHH, Risk assessments and Product Usage Guides and other area specific information.
The original 25 animated Jangro product user guides have recently increased to almost 100 and there are a further 150 scheduled to cover all chemicals in the Jangro brand range.
Jangro LMS is accessible on most Internet browsers and the Jangro app can be downloaded for Apple, Android and BlackBerry devices. A short sample programme can be seen on http://www.youtube.com/watch?v=woasxfL0qi4
OTHER ARTICLES IN THIS SECTION