ARTICLE
Gaining momentum
28 October 2015
Transport hygiene and cleaning needs can be challenging, especially when speed is business critical and any delay incurs enormous expense.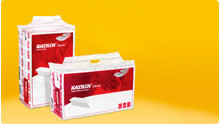 For example, during a plane turn around, washrooms have to be restocked and cleaning staff have to sweep through the cabins, removing the rubbish from the last flight – to exit out of the rear door, literally as the passengers for the onward flight start to arrive at the front door.
Even the smallest washroom
"The Katrin Handy Packs really perform in this environment, Mark Dewick, sales director for Metsa Tissue UK & Ireland, said. "Pushing a cleaning trolley down an aisle is not practical, and negotiating a case of product in and out of transport washroom doors is all but impossible. The Handy Pack can be easily carried on board and product delivered into the small washroom spaces by even the 'slightest' of cleaners. More than this, the Handy Packaging can then easily be used to remove waste from the vehicle and disposed of."
Another major challenge for transportation is keeping washrooms functional. A blocked toilet can mean the difference between "On Time, Delayed or Cancelled". Vacuum pressure systems and reduced water flushing mechanisms are both key technologies in the transport environment – but are very sensitive to malfunctions.
Mark Dewick said: "Katrin EasyFlush tissue paper is completely water soluble, in 30-60 seconds, without sacrificing the stability required for the product functionality. In regular, scheduled service Katrin often saves the day and even makes allowance for carelessness on the part of the passenger. A towel in the toilet does not result in a catastrophe."
Despite its great water solubility, Katrin EasyFlush is nevertheless durable and pleasantly soft, and the efficient pack sizes reduce the maintenance (refilling) requirements. In addition, the products are also the right size to fit in the integrated toilet facilities equipped with fixed dispensers. Alternatively, the new Katrin Inclusive dispenser range includes a 'narrow width' dispenser, suitable for compact washrooms.
Everyone included
Mark Dewick said: "The new Katrin Inclusive range, also includes innovative features which ensure that they are inclusive of many groups including children, the elderly and those who are visually impaired, or have disabilities, and this is especially important in the transport arena."
Strong contrasting colours make the dispensers opening very easy to see in any environment. Use of large 'push faces' eliminates the need to turn 'wheels' to feed paper – something which can be difficult for some users. For all dispensers, the paper is very easy to remove, and can be pulled out with one hand. Katrin Inclusive Dispensers also use braille text on all of the 'push faces' to further help visually impaired users in their everyday life. A choice of dispensers that open upwards or downwards again makes allowances for compact spaces, as well as any height. The full-face push surfaces are said to make the dispensers effortless in any position, and for users of any age to operate.
Lowering the travel footprint
Mark Dewick said: "Together, these features ensure that Katrin products always deliver convenience and flexibility as well as cost savings through reducing cost in use and eliminating expensive or complicated maintenance. This is especially valuable in a transport environment, and with Katrin, user satisfaction is maintained and brand value is enhanced, regardless of who is using the washrooms."
He concluded: "More than this, with Katrin's environmental approach, customers can be assured that they are making a sustainable choice, helping to offset what can otherwise be a high carbon footprint in the travel environment."
OTHER ARTICLES IN THIS SECTION