ARTICLE
Serving the needs of a broader range of users
28 September 2015
Metsä Tissue introduces new Katrin Inclusive Dispensers to enhance ease of use for public washrooms.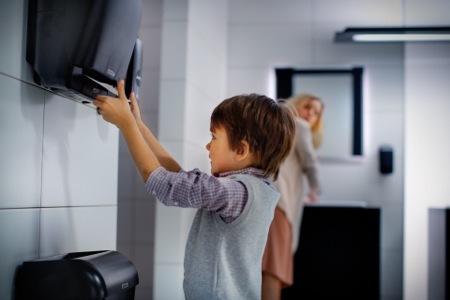 Metsä Tissue is very pleased to introduce a new range of Katrin dispensers, called the Katrin Inclusive Range. This new range has been designed in collaboration with industry experts, as well as a wide variety of customers and end-users right across Europe, and takes into account the needs of a wide selection of users, including children, the elderly and those who are visually impaired, or have physical disabilities.
Stylish and functional
The new Katrin Inclusive Dispensers consists of 10 dispenser types, including new models for the Katrin System Hand Towel and Toilet Roll range, as well as dispensers for conventional paper products and soap. The extended range includes matching waste and feminine hygiene bins, as well as well as elegant dispensers for facial tissues. The range comes in attractive black or white designs.
In addition to enhanced usability, the new range of dispensers includes features to enable ease of installation and maintenance. The transparent housing lets maintenance personnel see where to drill screw holes, and transparent side panels show at a glance how much tissue, soap or other consumable is left. This saves time for facilities personnel and ensures optimum product availability and efficient daily maintenance.
All Inclusive dispensers have a key, and all use the same key, to save cleaning staff having to carry round a large collection of dispenser keys or waste time trying to find the correct one. In addition, the dispensers can be keyed or keyless, with set up being a simple turn of the key to the left (keyless) or right (key) on installation. All Inclusive Dispensers have their keys on the back plate of the dispenser, so they never get lost in transit.
Special consideration
"Of course, dispensers are usually designed to look good, and be functional but our research told us that typically, hygiene dispensers do not take into account the wider range of needs of people likely to be using public or commercial washrooms," says Mark Dewick, sales director for Metsa Tissue UK & Ireland. He continues: "With this new Katrin range, we have designed products that are stylish and functional, but also inclusive of many groups including children, the elderly and those who are visually impaired, or have disabilities."
Strong contrasting colours make the dispensers very easy to see, especially, when they are mounted on a wall of the same colour. Use of large 'push faces' eliminates the need to turn 'wheels' to feed paper – something which can be difficult for some users. For all dispensers, the paper is very easy to remove, and can be pulled out with one hand. Katrin Inclusive Dispensers also use braille text on all of the 'push faces' to further help visually impaired users in their everyday life.
Dispensers that open upwards make it much easier for people of all heights to fill and maintain the dispensers. The full-face push surfaces make the dispensers effortless for users of any age to operate and simple graphical signage clearly shows how the dispensers should be used and maintained.
The dispensers also come with fitting guidance, including recommended heights to accommodate wheel chair usage for disability washrooms.
Functional, ethical and environmentally sound
Inclusively designed Katrin dispensers comply with the highest ethical standards and fulfil all relevant EU regulations covering hygiene facilities in businesses and public institutions.
Mark explains: "Having created an ethical design, the most practical way that we can help our Katrin customers to reduce their environmental footprint is to make dispensers which use environmentally sound tissue papers and are sustainable themselves. Our long-lasting dispensers are only made of materials that can be safely reintroduced into the production cycle."
Katrin Inclusive Dispensers are simple to disassemble and when recycled, the materials can easily be separated from one another. The dispensers are made from durable ABS and polypropylene plastic, both of which are totally reusable.
The dispensers help to reduce usage and wastage, cutting down on excessive use of paper. Mark explains: "High capacity devices and stub roll functionality combined with hygienic self presenting paper products, delivered in a measured and controlled way, make choosing Katrin a sustainable and responsible choice."
Rigorously tested
Even the smallest details of the Katrin Inclusive range have been designed and tested to ensure easy and safe usage for everyone. To make sure that the dispensers were ready for the challenges of real life, they have gone through extensive tests which simulated a minimum 20 year lifetime.
The dispensers were even tested for visual appeal. In comparison to other dispensers in the marketplace, the vast majority of the test participants (74 %) preferred the design of Katrin Inclusive Dispensers to other products in the market place.
Mark concludes: "With the Katrin Inclusive range, we have created elegant dispensers that will fit in to any washroom ambience, and which users have already told us they prefer. More than this, we have taken the time to listen to all users, and from their feedback, create simple but effective design considerations that will have a positive impact for everyone."
OTHER ARTICLES IN THIS SECTION