Bonne hygiene
21 May 2015
France now has almost 1,300 McDonald's restaurants serving their food and drink, evidence of a significant change in eating behaviour in France.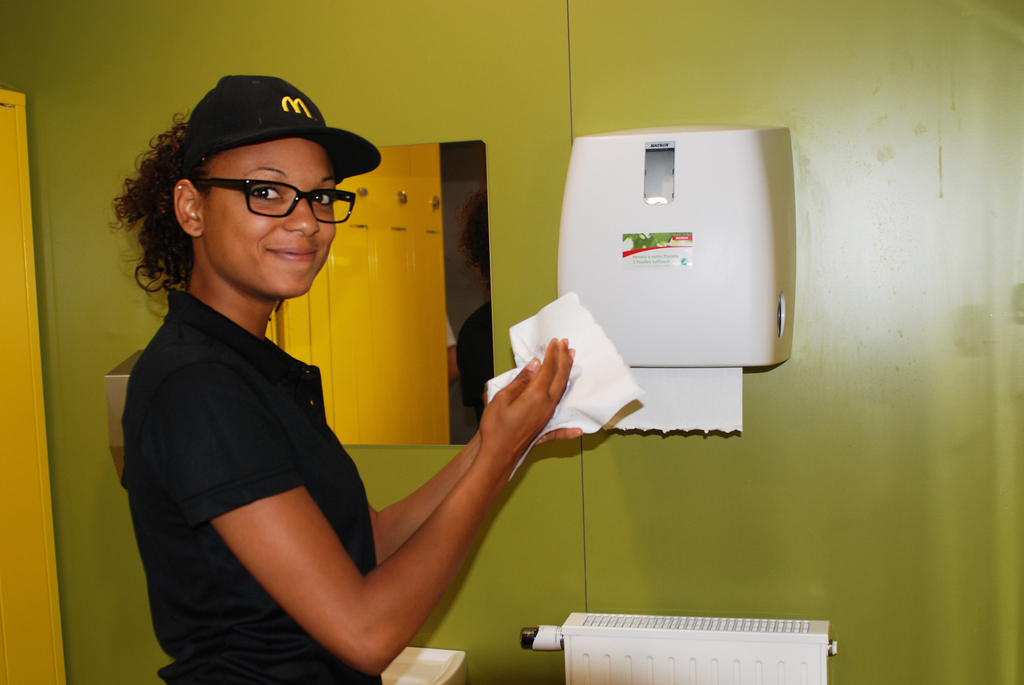 In these days of shorter lunch breaks and hectic work lives, there is less and less time left for traditional eating habits. McDonald's is constantly working to increase customer satisfaction through ever higher quality standards and improved product quality. This applies not only to food and drink, but also to its interiors, cleanliness and hygiene.
The restaurant in Villeneuve-sur-Lot currently employs a total of 45 people full- and part-time. They are responsible for the quality and freshness of approximately 600 orders per day. Alongside the freshness of the food and drinks, the interior design features and the standard of cleanliness throughout the facility, paramount importance is also attached to the issues of hygiene during food storage and preparation and personal hygiene. Every morning, before the McDonald's restaurant opens, the entire dining area and kitchen are cleaned by the company's own staff. When customers leave, their table area is also surface-cleaned.
Companies that process and prepare food must maintain strict cleanliness standards in the kitchen, so the entire interior is inspected every hour. The task is to ensure that the standard of cleanliness achieved in the morning is maintained throughout the opening hours until midnight. Responsibility for this lies with restaurant manager Kelly Havet. She said: "We attach particular importance in this area to the individual personal hygiene of our employees. We are aware of the problem of the risk from infections that can be transmitted via the hands. We therefore pay particular attention to the issue of hand hygiene."
Sébastien Feuerlé, who manages the five restaurants in the Villeneuvesur - Lot region, added: "We demand optimum hand hygiene from our staff, and this means we also have to provide them with the best equipment to achieve this. Our requirements were clear: we were aware of the scientific studies carried out by the University of Westminster and TÜV Rheinland, so we looked particularly carefully at hand drying. We therefore ruled out jet-air systems and textile hand towels from the outset. Since only mechanical rubbing with paper and the high absorbency of cellulose dry the hands really hygienically and remove bacteria, dirt and oily residues, only paper towels came into consideration for use in the kitchen."
Scientific studies (the University of Westminster, TÜV Rheinland) had shown that, in a comparison of paper, textile hand towels and air driers, paper towels remove the most germs. Based on these findings, intensive application and quality tests were then carried out in several French McDonald's restaurants on seven types of paper towels from different suppliers. They finally decided in favour of northern European supplier Metsä Tissue which, with its away-from-home brand Katrin, has many years of experience in supplying its hygiene papers and dispensers to catering establishments.
Jérome Colombini, sales manager for Western France at Metsä Tissue, said: "As a certified supplier, we are especially delighted by this decision, which was made according to quality criteria on an economic, ecological and sustainable basis."
What were the criteria for the decision?
Hand drying is more important in achieving optimum hand hygiene than hand washing. Any residual moisture on the hands – often inadequately removed by air driers and jet-air systems – provides ideal conditions for germs and bacteria to multiply. The company therefore opted for Katrin 2-ply tissue paper. This decision was based on the following criteria:
Due to its composition (around 50% cellulose and 50% recycled paper), the paper can absorb over five times its own volume in water, giving it a water absorption of over 500%. This embossed paper towel is therefore able to absorb residual moisture on the hands quickly and efficiently up to a maximum of 10g per sheet. The normal residual moisture on the hands is 8g. One to two sheets is usually enough to dry the hands completely, which is not only an advantage in terms of cost, but also results in less waste.
The HACCP-certified papers are also very strong, so the towels do not disintegrate when they are pulled out of the dispenser, even with wet fingers. The next towel then sticks out about 2-3 cm from the dispenser. This avoids contact between the hands and the dispenser, preventing contamination.
The Katrin paper towel range is certified by the Fresenius Institute. This confirms that these towels can be used safely in direct contact with food. All the plants in Germany, as well as the parent plant in Finland, are certified according to ISO 22000 or the BRC Food Safety Management System. This means that food safety is assured at all stages of the production and supply chain. These products are guaranteed risk-free for contact with food.
According to Jérome Colombini: "Consumption efficiency depends on the optimum combination of paper and dispenser. For this reason, in the changing rooms and in the kitchen area, 2-ply paper rolls with system dispenser are used".
In addition, the company has also opted (in four McDonald's restaurants currently) for Katrin toilet paper and matching dispensers for the public and staff bathroom areas. The advantage of this system is that two rolls are stored inside a closed dispenser system. This means that they cannot be misused, unlike freely placed spare rolls.
It is not necessary to check the paper levels several times a day because the spare roll drops into position automatically, and from experience, the quantity is sufficient for one day's usage. The paper is designed to dissolve quickly on contact with water, thus avoiding pipe blockages, which are a common occurrence in catering establishments and can result in serious operational problems. Kelly Havet describes the application profile: "For the public area, it is an enormous advantage for us that the toilet paper dispensers have two normal rolls of paper, instead of one large one. It means you're not left empty-handed if the active roll runs out."
To achieve optimum hand hygiene, this ideal combination of products goes hand in hand with appropriate training for staff. Eric Arnoux, franchisee of the five McDonald's restaurants in Villeneuve-sur-Lot, summarises his experience: "Before they start working for us, we emphasise to our staff that they must wash their hands after getting changed, before entering the kitchen and the dining area, while they are still in the changing room.
"While they are working, they then have to wash and dry their hands four to six times an hour, depending on the work they are doing. The staff are particularly pleased with the softness of the paper because this helps to prevent skin irritations and micro-injuries, which can harbour germs. The papers are also hypoallergenically tested, which, given all this frequent hand washing, is a not insignificant factor. It is also important to us that supplies are delivered on time and that dispensers
work reliably without breaking down."
OTHER ARTICLES IN THIS SECTION