ARTICLE
Academia at its best
09 June 2015
Metsa Tissue is pleased to announce that 3 years on, its educational programme, The Katrin Academy, is still going strong.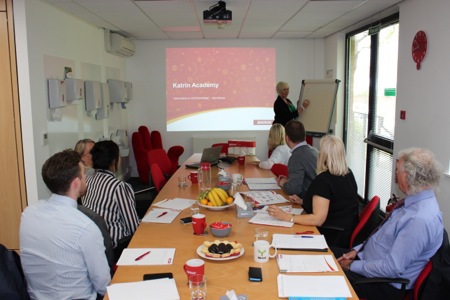 Aimed at Metsa Tissue customers selling washroom products and those involved in Facilities Management and/or contract cleaning, the Academy provides an intensive day of Katrin training for small groups of people. The content is very hands on and along the way, attendees have the chance to practice using their knowledge information in a live, but non-customer environment.
"It is important to ensure that our customers have sufficient Katrin knowledge to be successful at promoting it effectively," says Jo Long, account manager and Katrin academy manager at Metsa Tissue. She continues: "Their business is our business - this is what initiated the Katrin Academy and this is what drives it to continually evolve."
Youth unemployment
Although the Academy started as a pilot scheme, more than 3 years later, having held some 60 Academy sessions, and trained more than 300 people, the Katrin Academy has become a "best practice training model" for other parts of Metsa Tissue across Europe.
But what about training for young people trying to get into business in the first place? According to a paper produced for Parliament by the Office for National Statistics in March 2015, the unemployment rate for 16-24 year olds not in full-time education, November to January 2015, was 14.3%, almost 500,000 young people, of which, more than 200,000 had been unemployed for more than 12 months. Here, Katrin customer, Source Supplies is trying to do their bit with another Academy initiative.
Community matters
Ollie Rastall, sales director for Source Supplies, says: "Large companies run apprenticeships and internships which is a great way to get started, but since joining the Community Matters Partnership Project (www.communitymatterspartnership.org.uk/) last year, we've been looking for ways in which smaller companies like ourselves, can contribute to local communities." He continues: "At a recent conference in Rushmoor hosted by the Partnership, it was highlighted that many school leavers are not ready for the world of work. This was a 'light bulb moment' for us and the Source Supplies Academy was born."
Bridging the gap
Recognising the need to bridge the gap between local schools and local businesses, the Source Supplies Academy creates opportunities for young people in the region to get 'work ready'. Source Supplies will invite two year 10 students, aged 14-15, from each of the four secondary schools in Rushmoor Borough to a series of days working at Source Supplies. This is an opportunity for school students to experience the inner workings of a thriving business whilst picking up and developing life skills.
Ollie explains: "To begin the process, Source is visiting each of the schools to deliver the idea to the students." A key strength of the approach is that it is not necessarily the highest achievers who will attend – recommendations could be done by the school staff, by the Wurk-IT initiative or via applications sent directly to Source Supplies from students themselves. Ollie continues: "Once students have logged an interest, it could be up to their Head Teach/Year Head/Form Tutor to determine who would be the best fit, thus ensuring the people who gain benefit will be those who the school deem to be most in need."
Business immersion
The general flow of the students' time spent immersed in the company is:
Day 1 – General overview and introduction to source supplies and the industry
Day 2 – Overview and active participation in sales and marketing
Day 3 – Shadowing staff in warehouse and logistics
Day 4 – Understanding the finance and purchasing process
Day 5 – Tracking and monitoring deliveries
On the 6th Day – The students will choose what they liked most and least, and then spend half a day doing each…. To reinforce or break down any mental barriers they had developed in the first session.

"For an SME business like Source Supplies, this great initiative has a cost in both time and resource," says Mark Dewick, sales director for Metsa Tissue UK & Ireland. He explains: "When Ollie told us what he was trying to achieve, we were only too pleased to support his Academy initiatives with much needed sponsorship funds, and also by contributing our expertise to the lessons learned."
Mark adds: "As a key supplier to Source Supplies, Metsa Tissue will be attending some of the sessions and contribute to the learning from a manufacturer's perspective, adding value to the students experiences. We will also be using our Katrin Academy teaching experience to help supplement the resource available to fulfil this valuable initiative."
Empowering the workforce
Mark says: "We expect the Katrin Academy to continue to go from strength to strength, adding new modules and training new staff and customers. We are looking forward to reviewing the Source Supplies Academy as it develops and reflect on that success too."
Ollie says: "We are still in the early stages of this programme, but our clear objective is to empower students with a variety of experience with tasks and cultural exposure to a corporate working environment. We will also give them a certificate and a valuable reference to support their preparations to go into the world of work."
He concludes: "If we can enthuse young people; provide them with a business ethos and help bring the unemployment rate down even a fraction for this young adult group, our work will have been worthwhile."
OTHER ARTICLES IN THIS SECTION