ARTICLE
Service to bring a smile
02 April 2014
The technology behind floor care machines has no doubt come a long way over recent years. It is the service side of the cleaning industry, however, that is really excelling when it comes to product development, argues Nilfisk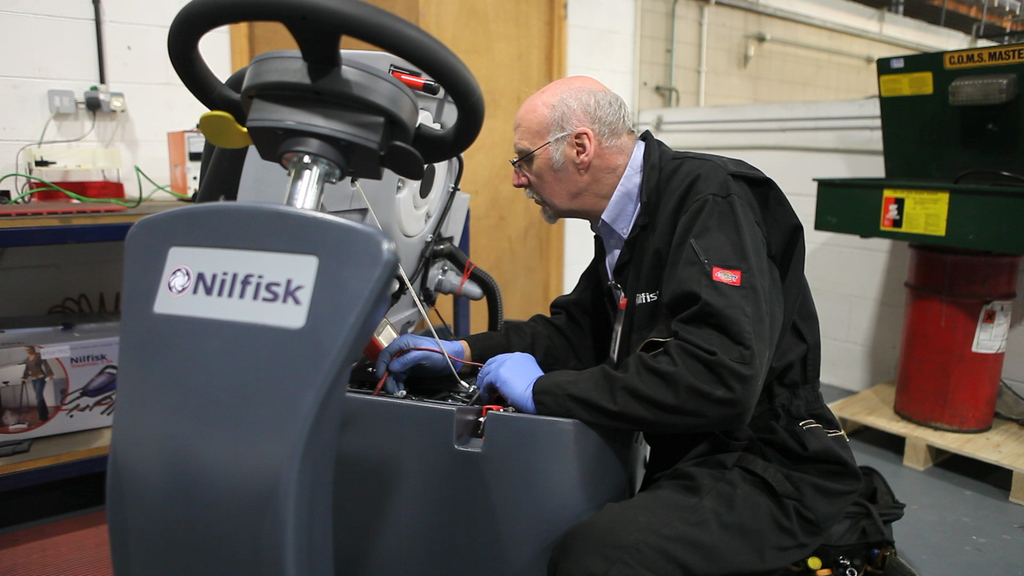 You can still buy a machine with no service contract and hope for the best but increasingly clients now choose to protect their critical cleaning needs with all-encompassing service packages that are moons away from yesteryear.
The Total Care programme from Nilfisk, which was launched last year after extensive contractor research, is built on cleaning excellence, service level assurance and financial flexibility. The objective – unrivalled service solutions for all elements of a contractors demanding remit.
Key elements of the Total Care Programme:
Site review: A formal site review during which all cleaning elements are identified and recorded is central to the programme. The objective is to determine the optimal set up for each individual contract. Experienced Nilfisk personnel evaluate the cost efficiency of existing and potential solutions.
Machine selector tool: This computerised program allows the contractor to determine the total cost of cleaning and thereby select the lowest cost option. Pre-defined factors include total cleaning area, minimum cleaning width, distance to water source, time constraints, conditions and labour cost. Ihe event of an incorrect machine being recommended Nilfisk will move the machine to a new location or exchange it to protect the contractor from under-utilisation.
On time delivery guarantee: An always on time guarantee that sees machines within the closer to market contractor range delivered within 72 hours.
Pre-delivery inspection: All machines are manually inspected pre-delivery to site. Units are therefore delivered fully checked, charged, fitted with accessories and ready to go.
95% first time fix or loan machine (contractor range): All service calls placed before 10am receive a same day call out from the extensive nationwide engineering team. Calls placed after 10am will be scheduled for a service visit the next day. Total Care provides a 95% first time fix guarantee on all machines within the closer to market contractor range, or a loan machine is delivered within 24 hours.
24/7 technical help line & single point service contact: The Total Care programme promises one single point of contact for all service issues. Service status updates are provided real time via email and web portal, ensuring that the contractor is fully aware of site status at all times.
Fixed schedule review meetings: Scheduled review meetings are held to discuss agreed key performance indicators against each contract. Nilfisk's knowledge of sustainable cleaning and the analysis behind the machine selector tool allows real insight into all elements of green cleaning.
Flexible finance: Cleaning contractors can choose from traditional machine purchase, lease and long term and short term rental options. The Total Care programme provides reassurance in that a contract can be put on hold for 3 months if necessary. Additionally a contract can allow for return of up to 10% of the total machine fleet.
OTHER ARTICLES IN THIS SECTION