ARTICLE
DCLG releases weekly bin collections guidance
03 February 2014
The Department for Communities and Local Government (DCLG) has released guidance supporting weekly waste collections by councils as part of measures to "deliver better services for council tax payers".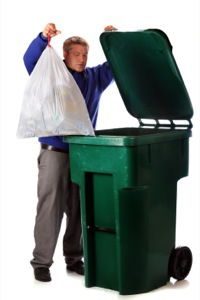 The 'Guidance on weekly rubbish collections' aims to "show how councils can deliver a comprehensive and frequent rubbish and recycling collection service, and deliver practical savings from common sense steps that do not harm the quality of the service that local taxpayers receive".
Dubbed by the department itself as the 'bin bible', it contains case studies of councils which have maintained weekly collections of waste while increasing recycling. It also contains a list of 10 'common misconceptions' about recycling which the department claims are used to promote fortnightly services.
Communities Secretary of State Eric Pickles has been staunchly opposed to alternate weekly - fortnightly - waste collection services since taking office in 2010, and in February 2012 set up a £250 million funding scheme to help local authorities maintain or even reinstate weekly collections. In the 'bin bible' collection guidance, DCLG says that the funding awarded to local authorities under the £250 million scheme has helped to 'safeguard' weekly collections for around six million households, and will lead to an extra 400,000 tonnes of material being recycled.
Barmy bin policies
Commenting on the guidance, Mr Pickles said: "This government is standing up for hard-working people and getting rid of barmy bin policies which made families' lives hell. Rubbish collections are the most visible service that people get for their £120 a month Council Tax bill. People deserve a comprehensive weekly service in return for their taxes.
"We have exposed 10 false fictions fortnightly bin barons cling to as excuses for cutting services. If councils adopt this new guide as their 'bin bible', they will be able to save taxpayers' money and still increase the frequency and quality of rubbish and recycling collections."
The minister was also critical of the "administrations" in Wales and Scotland, who he claimed supported less frequent collections of waste.
He added: "Across Britain there is a clear choice on offer. The Government in England is standing up for weekly collections; by contrast, the administrations in Wales and Scotland are moving towards monthly collections."
According to DCLG, 'bin bureaucrats' have falsely claimed that moving to fortnightly collections is the only way to improve recycling rates. The Department reasons instead that 'numerous councils' have managed to recycle more than half of their waste whilst maintaining weekly collections.
Case studies included in the report include Bournemouth borough council, which has kept weekly collections and developed a reward system for residents who recycle more as well as Ribble Valley council, which has secured finance through the £250 million fund to divert around 770 tonnes of food waste away from landfill.
Guidance is 'entirely unhelpful'
Members of the waste industry have spoken out against the document, with the Chartered Institution of Waste Management (CIWM) expressing concern when the guidance was originally released on 26 December – it was later retracted (with DCLG claiming it had been published in error).
CIWM chief executive Steve Lee said: "CIWM welcomes best practice in any area of waste and resource management. However, what we have seen so far with regard to this guidance repeats the provocative language used on a number of occasions by Mr Pickles' office and is likely to reignite damaging media debate that pits one type of collection scheme against another in an entirely unhelpful way."
Lee added that the guidance was "insulting" in its use of provocative terms such as "lazy" and "idle" to describe councils who have moved to fortnightly (or alternate weekly) collections.
He continued: "Whether on a weekly or an alternate weekly basis, UK householders benefit from convenient and reliable kerbside waste collection and recycling services. By creating more unhelpful debate over the frequency issue, Mr Pickles' office undermines these efforts and obscures the bigger issue, which is that waste is a significant cost to our society and, rather than having a 'basic right' to weekly waste collections, we have a collective responsibility to create less and recycle more."
The 10 weekly collection myths 'busted' by DCLG
In the document, DCLG sets out to bust a number of myths it claims have been employed by bin bureaucrats regarding weekly waste collections. These include:
There is no alternative to fortnightly collections to improving recycling rates.
Fortnightly collection schemes reduce the overall amount of waste produced.
In areas with low recycling rates, introducing a fortnightly collection is the only way to change residents' attitudes to recycling.
The £250 million Weekly Collection Support Scheme will be damaging to the environment and have a disastrous impact on recycling.
People don't want their bins emptied every week.
Other than inconveniencing residents, there are no other problems caused by a move to fortnightly collections of residual waste.
Local authorities can't commit to weekly collections of residual waste in uncertain times.
The only option for a local authority to save money is to move to a fortnightly collection of residual waste.
The introduction of a fortnightly collection will bring significant savings to the council and in turn therefore to the Council Tax payer.
Traditional weekly rubbish collections must be scrapped to meet European Union recycling regulations.
OTHER ARTICLES IN THIS SECTION