ARTICLE
bpi.recycled products: Cutting the carbon footprint of the catering sector
03 February 2014
Following a recent report by the Carbon Trust showing that the catering sector could save over a million tonnes of carbon each year by adopting a more strategic approach, bpi.recycled products is highlighting its ability to contribute to lower carbon footprint catering operations.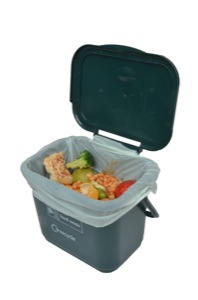 The Carbon Trust analysis – which was conducted in order to develop a Cut Cost & Carbon Calculator for organisations involved in the manufacture, supply, design, specification and running of catering equipment and sites – showed that the catering industry is responsible for almost 2% of all business and public sector carbon emissions in the UK.
The sector currently serves some 8 billion meals per year across 260,000 sites, costing around £770 million a year in energy and resulting in 3.9 million tonnes of carbon emissions. The Carbon Trust believes that if catering organisations more effectively tailored menus and better optimised equipment selection and use, it could save not only carbon but also up to a £¼ billion per annum on its energy bills.
As part of the strategic approach now being advocated, which includes adopting a lifecycle approach to equipment choices, bpi.recycled products is urging the industry to look beyond equipment that directly consumes energy such as ovens, refrigerators and dishwashers, and to consider the energy consumption and carbon emissions involved in the production of consumables as well.
Rachael Barton, marketing communications manager at bpi.recycled products, explains: "The analysis by the Carbon Trust highlights the important need for the catering sector to reduce its overall energy consumption and carbon footprint both from a financial and environmental perspective.
"Against this backdrop, it is all too easy for organisations to become solely focused on energy consuming equipment but making more informed choices when it comes to catering supplies can also make a huge difference. That's why bpi.recycled products is reminding the industry of the sustainable, low carbon benefits of our Green Sack range."
The Green Sack range can play a major part in reducing the carbon footprint of any catering organisation thanks to the innovative way in which these refuse sacks are produced. Not only are they made from 100% recycled waste polythene, helping to divert waste from landfill and to conserve resources, including energy, but they are also manufactured from UK waste at UK facilities.
This approach ensures they benefit from lower product miles and a dramatically reduced carbon footprint compared to most other 100% recycled refuse sacks which are typically produced in the Far East using exported waste before the finished sacks are reimported back to the UK again. As a result, bpi.recycled products estimates that Green Sacks have a carbon footprint up to a third lower than most other 100% recycled refuse sacks.
Rachael Barton concludes: "When it comes to reducing the carbon footprint of a catering operation, all avenues should be explored. Switching to a lower carbon footprint refuse sack may seem like a small step but it can have a very large and cumulative effect. This is especially true when you consider how many of these products are actually used by most catering operations day in and day out."
OTHER ARTICLES IN THIS SECTION