Home
>
UK chefs triumph on peak of Kilimanjaro
ARTICLE
UK chefs triumph on peak of Kilimanjaro
04 September 2013
A team of leading UK chefs are celebrating after conquering Africa's highest mountain, Mount Kilimanjaro as part of a bid to raise £50,000 for charity.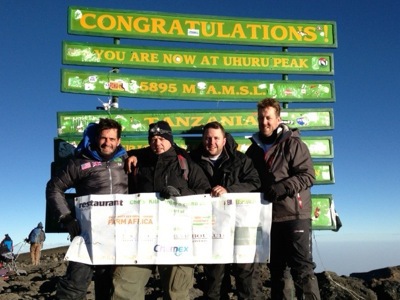 The team, led by the Fat Duck Group's executive head chef Ashley Palmer-Watts, reached Uhuru Peak – the highest point in Africa – at 5.55 am BST August 28.
Their moment of triumph came after a gruelling eight hour slog over treacherous paths and mountainous scree. They had set out from camp at 10pm, trekking and climbing through freezing night time conditions before emerging on to the summit of Kilimanjaro to witness a glorious African sun rise over the plains below.
Only 41% of all those who set out to climb Kilimanjaro actually reach the summit at Uhuru Peak, which towers over Africa at a height of 5,895 metres above sea level. Getting to the top is the equivalent of climbing Big Ben 61 times.
The team also includes John Freeman, head chef at the Michelin-starred Restaurant Sat Bains in Nottingham; Paul Foster, head chef at Suffolk's highly regarded Tuddenham Mill; and Paulo de Tarso, senior maître D' at Knightsbridge's Bar Boulud.
The chefs are already within reach of their fundraising target of £50,000. To date, they have raised the impressive sum of £47,212 for Farm Africa's Food for Good campaign, which brings together the UK food and hospitality industries to help tackle one of the most pressing problems facing the world today: hunger. Just before setting out for Africa the team received a major sponsorship boost from Chemex, the cleaning and hygiene supplies specialist.
Chemex director Sean Derrig said: "This has been a fantastic achievement for the team and I am delighted that Chemex has been able to play a part in their success. Not only will their efforts raise much needed funding to help prevent food poverty in Africa but it has also raised awareness about alternative solutions to ending the cycle of hunger by enabling people to become self supporting."
RELATED ARTICLES
No related articles listed
OTHER ARTICLES IN THIS SECTION