ARTICLE
Vacuum cleaners added to dust control range
05 September 2019
The latest additions to Makita's cordless range of vacuum cleaners, the 18V Brushless Vacuum Cleaner LXT (DVC750LZ) and 12Vmax Vacuum Cleaner (CL121D), are suitable for a wide range of applications – from commercial cleaning, to domestic properties and vehicle interiors.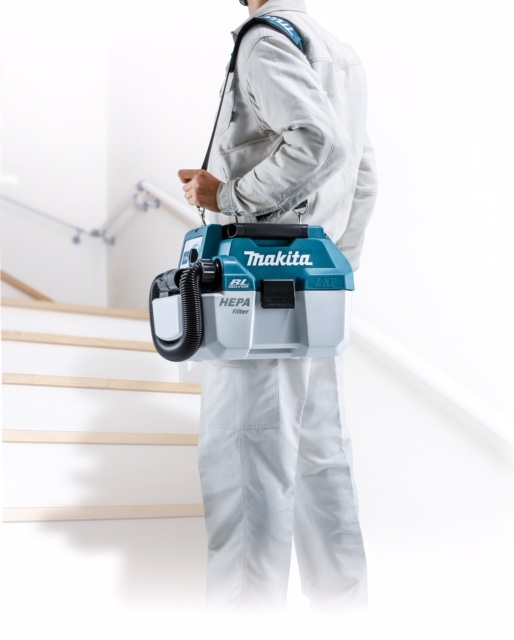 Cordless vacuum cleaners are becoming an increasingly popular choice, as they offer improved usability and health and safety. By utilising Makita's Li-ion battery technology, the 18v (LXT) DVC750LZ and the 12v-Max (CXT) CL121D also offer extended run times – and fast battery charging – meaning productivity is also increased.
Benefiting from Makita's variable suction control – with high and low settings, as well as a blower function, depending on requirements – the DVC750LZ is suitable for both wet and dry use and can hold up to 7.5L of dry material or 4.5L of wet material – filters should be replaced after using the vacuum for wet applications. The DVC750LZ is suitable for L-Class dust and can remove 99.0% of dust with a Limit Value for occupational exposure of less than 1.0mg/m3. For improved safety, the DVC750LZ also produces low vibration levels (2.5 m/s²) and has a vibration K factor of 1.5 m/s².
The DVC750LZ is compact in size (418 x 251 x 278mm) and includes a foldable handle and flexible hose, with on-tool storage, for ease of use. The vacuum can also be used with a range of accessories – including various nozzles, suction tubes and a shoulder strap – depending on the task.
The inclusion of a Brushless Motor means that the DVC750LZ requires minimal maintenance; as the motor does not utilise carbon brushes, friction is reduced, resulting in fewer issues due to wear and eliminating the cost of replacement brushes.
Makita has also launched two options for its new CTX 12v-Max Vacuum – CL121DZ (body only machine if users already own batteries and a charger) or the CL121DWA (supplied with a battery and charger). The CTX 12v-Max Vacuum is a compact and light-weight vacuum (1.7g-1.8g net weight) suitable for domestic use and for use in tight, hard to reach places such as vehicle interiors. The vacuum's variable speed control with a three-stage push button, blower function and range of compatible nozzles makes the CL121D very versatile. The CL121D has a capacity of 500ml with a cloth bag or 330ml with a paper bag and benefits from a maximum air flow of 1.3m3/min and maximum sealed suction of 4.6 kPa.
Makita's CL121D also includes overheat protection, to ensure that the vacuum continues to work at its optimum. Overheat protection will stop the vacuum motor if the tool or battery begins to overheat.
Matt Chilton, product manager - tools at Makita, said: "To ensure the best results, it is vital that those within the cleaning and facilities management sectors carefully consider the tools they use – the better the quality of the vacuum, the better the results. Makita's new cordless vacuum cleaners offer a solution for every job – from cleaning large commercial spaces, to accessing difficult to reach or tight spaces such as the inside of a car or van."
OTHER ARTICLES IN THIS SECTION