ARTICLE
Makita's cordless 36v L-Class Dust Extractor and 18v Vacuum
23 June 2017
The new Makita twin 18v DVC863 LXT L-Class Dust Extractor is exclusively cordless whereas the DVC861 model can be run on mains or similar twin 18v batteries.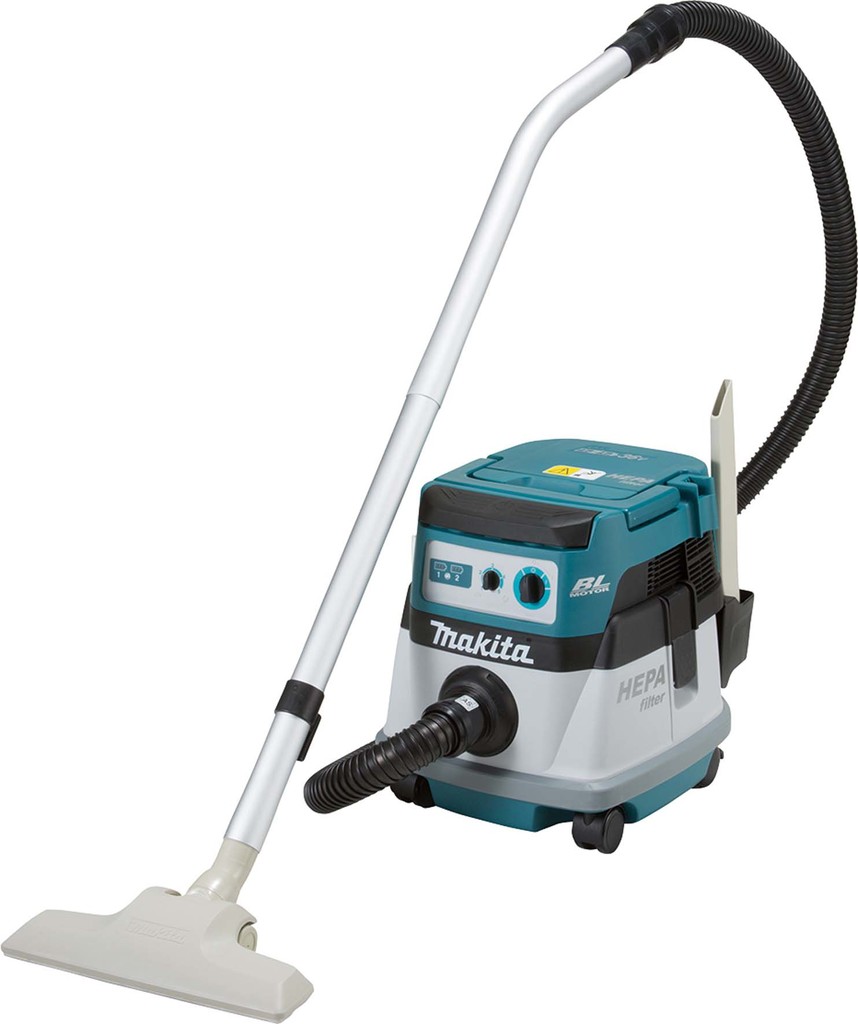 The DVC863 has maximum sealed suction power increased to 9.8kPa with the powerful 36v motor system producing a maximum air flow of 2.1m³/min. The Brushless motor enhances run time to approximately 40 minutes with two 5.0Ah batteries fitted directly to the machine. This is a dry type vacuum with HEPA filter that removes 99.0% of dust with Limit Value for occupational exposure >1.0mg/m³ which means this extractor can be used for processes involving mica, china clay and gypsum.
The 8 litre tank on the new Makita DVC863 Dust Extractor is compatible with the popular commercial plastic waste bags that can easily be disposed of in the appropriate process. The robust casing includes a removable storage box and has large bumper mouldings to protect the side walls and surfaces. This extractor moves easily on four casters with clip-down locks on the rear pair to stabilise the extractor location. Suction power is variable by the control dial on the body of the extractor with the large On/Off switch located alongside. Weighing just 8.4kg with two batteries installed, this dust extractor will prove highly efficient for most site operations, has low vibration and sound pressure levels.
The new Makita 18v LXT DCL501 LXT Vacuum Cleaner benefits from the innovative attributes of Makita's Brushless motor with improved runtime and battery performance. When fitted with a 5.0Ah battery the motor effectively delivers 75watts of suction power on the high operation setting, with 29 minutes run time, and 25watts over an hour of run time on the lower setting. This 18v vacuum will generate a maximum airflow of 1.3m³/minute and a maximum sealed suction performance of 6.6kPa. The soft start system protects the motor on start-up.
The advanced filtration system of the new Makita DCL501 Vacuum features cyclone separation where the large dust particles are spun by centrifugal force of the airflow, and collected in the dust cup of the cyclone section, whilst the small dust particles are collected by the HEPA filter which is washable. After use the filter cleaning lever is simply moved from side to side to remove dust from the filter into the collector, which is easily removed for emptying. LED indicator lights indicate battery capacity and when the filter is due for cleaning. Weighing just 3.3kg this robust vacuum unit has adjustable length zoom pipe and adjustable shoulder belt to ensure the machine is comfortable for all operator heights.
Both the LXT L-Class Dust Extractor and the LXT Vacuum Cleaner are available in body only models.
OTHER ARTICLES IN THIS SECTION