ARTICLE
The evolution of the washroom basin
24 January 2019
As we well know, washrooms have a significant part to play in reducing the spread of germs in any public environment, particularly when it comes to hand washing.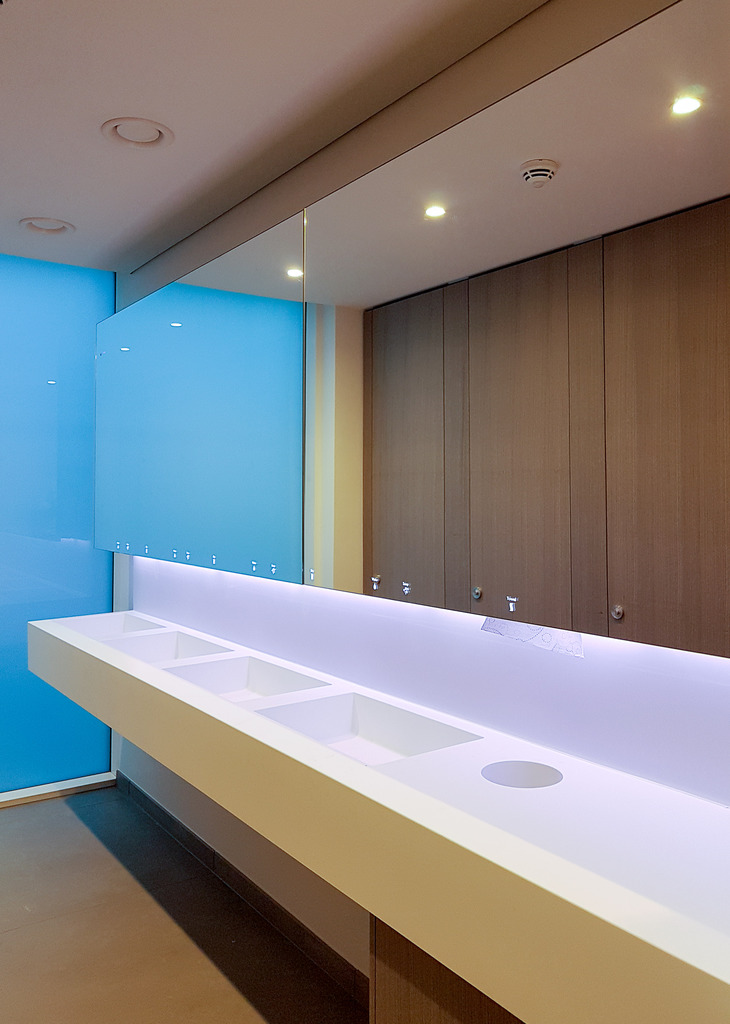 Research has shown the hand washing area as the worst culprit in terms of levels of contamination, with more than 50,000 Colony-Forming Units (CFUs) present on or around a standard basin at any one time.
Now, with growing interest in a building's 'wellness' criteria in both the public and corporate sectors, washrooms are being evaluated ever more by what they do, or do not offer the user. Consistent with these new developments is the evolution of hand wash basins, their design and features.
At the forefront of the washroom industry, Dolphin Solutions are manufacturers, offering, what they describe as, "exceptional quality and immense breadth of product range, from dispensers to hot air dryers, taps and bins to baby change units". Since their acquisition of Unique Fabrications, the Corian and solid surface fabricators in 2018, they say they have been able to revolutionise their washroom offering where basins are concerned.
Available in standard sizes or to your bespoke requirements, their new 'Vanity Troughs', also known as wash troughs or slabs, are currently a rapidly growing trend in washroom design, offering a more modern, stylish and hygienic alternative to the standard basin. A key feature, due to their streamlined shape, is that they are easy to clean whilst also having minimal places where germs can be harboured.
The ALAVO vanity trough by Dolphin, is available in two durable materials, Corian and Silestone. Liquids cannot penetrate Corian, which is said to make it an excellent solution for washroom maintenance in terms of cleaning and general up-keep. Silestone is a product made with compressed Quartz which has high scratch and stain resistance. Both materials are available in a range of colours and can be combined with matching splashback to offer a consistent, exceptional finish to any washroom.
While troughs are available as a solo and bespoke item to suit any washroom project, they work particularly well as part of the Dolphin ALAVO wash wall system. When space is at a premium, and energy-efficiency is a priority, this modular, touch-free, behind-mirror handwash system keeps taps, soap dispensers and hand dryers concealed behind a back-lit mirror above the wash basin or trough. By saving space, minimising water and reducing queues this wash wall system can benefit everyone in the process from design to purchase, contract and installation, facility management and the washroom user.
OTHER ARTICLES IN THIS SECTION