ARTICLE
The power of powder
08 October 2015
Many professional contract cleaning companies opt to use powdered carpet cleaning detergents, over liquids.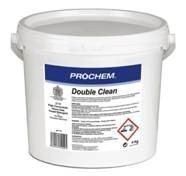 The main justification is cost, explains Phil Jones, sales manager and Prochem training course instructor.
He continues: "Often powdered detergents can actually go much further due to dilution rates and higher concentration. If there are cleaning staff going off to fulfil a contract clean, then they can easily use the provided spoon in the tub to add the correct amount of products to some hot water, dissolve, and then add to the tank. If liquid detergents are 'glugged', then not only can the chemical costs be higher, but the carpets, upholstery or hard surfaces could also be left with far too much residue."
Prochem Europe offers a varied range of powdered detergents that can cover most situations, ranging from an economically priced version, to a WoolSafe suitable product, to a high alkaline cleaner, to a fully multi-purpose, 4-in-1 powder.
The company's biggest selling powdered detergent is S776 Double Clean. It's suitable for use through truck mount systems or portable carpet extractors and effective when dealing with heavily soiled carpets, leaving behind a fresh citrus-mint fragrance.
Time and effort has been spent blending its high-grade anionic and non-ionic surfactants. Buffered alkali builders assist the soil-breaking capability by increasing the cleaning power when in contact with acidic soils. Meanwhile, the corrosion inhibitors maintain the pumps and any metallic contacted parts.
For impressive results, Prochem recommends pre-treating the soiled carpet area with either its S709 Multi Pro, S710 Trafficlean or S789 Power Burst products (following normal dilution rates) before extracting with Double Clean.
OTHER ARTICLES IN THIS SECTION