ARTICLE
Armistice mat donated in aid of rugby charity
07 December 2018
COBA Flooring has been pleased to donate a bespoke manufactured entrance mat for a special prestigious event at Compiegne Rugby Club in France to commemorate the Centenary of the WW1 Armistice, in aid of the charity, Rugby for Heroes.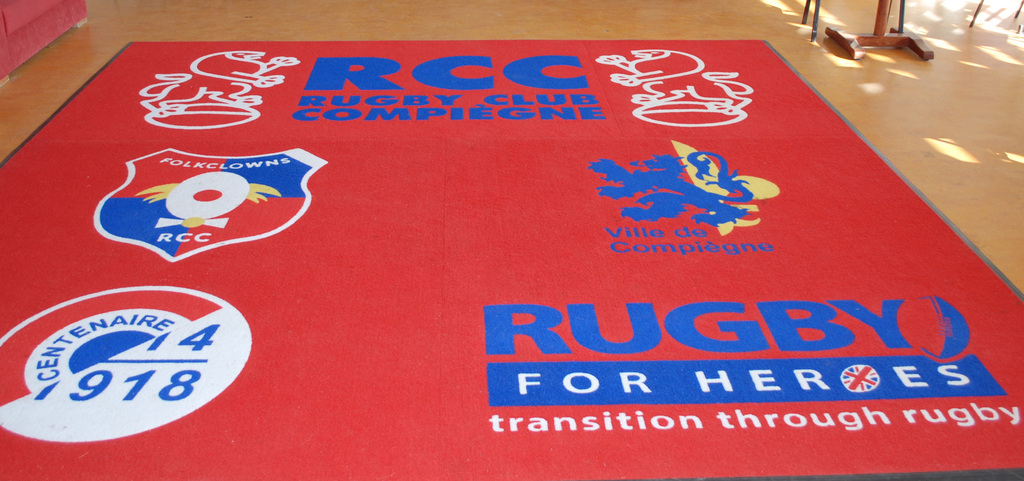 The UK headquartered entrance matting manufacturer with sales support and facilities throughout Europe, donated a custom-made Logomat Precision mat, featuring the emblems of the primary partners involved with the occasion. The special entrance mat now takes pride of place in the Compiegne Rugby Club House.
COBA was approached by Pascal Mitchell, former player and now chairman of Compiegne RCC, who together with Xavier Breining (chairman of Folkclowns veterans' team) was involved with co-ordinating the event in conjunction with the official organisers, Rugby for Heroes, a charity patroned by Mike Tindall MBE.
"I was initially contacted earlier in the year by its founder, Alan Lamb, to discuss the idea of a charity 300-mile bike ride from Twickenham to Compiegne stopping off at several Commonwealth war graves and memorials, which would culminate in a gala rugby match at our Club. The match involved former international players from England and France and military veterans," explains Pascal Mitchell. "We decided the Rugby for Heroes team, with names such as Mike Tindall, Serge Betsen, Patrick Tabacco, Kevin Yates and Petru Balan to name a few, should play our Compiegne RCC veterans team, 'Les Folkclowns' assisted by four former French internationals, including Damien Traille, Julien Candelon, Fabrice Estebanez and Guillaume Bousses."
The occasion, which took place in September - the first of a trilogy of events leading up to the centenary on 11th November 2018 - incorporated a formal ceremony to pay respects to those who fell during WW1, in the presence of the Mayor of Compiegne, Mr Philippe Marini. Compiegne has special significance because it was where the Armistice was signed 100 years ago.
OTHER ARTICLES IN THIS SECTION