ARTICLE
Anti-microbial hygienic cleaning tools
18 October 2018
Implementing and adhering to good hygiene practices and a robust HACCP plan is an essential part of preventing contamination on food contact surfaces, and cross-contamination between workstations.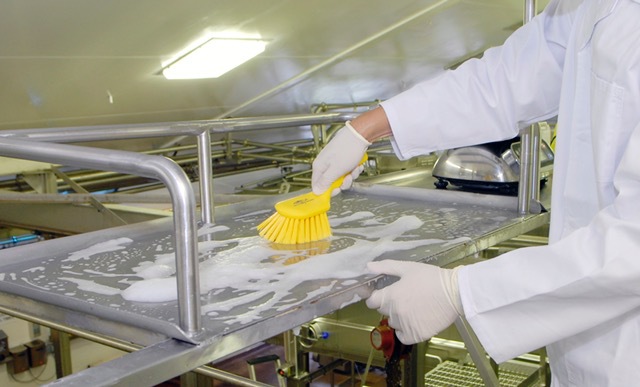 To help food manufacturers with this challenge, The Hill Brush Co.'s Anti-Microbial Hygienic Cleaning Tools are designed for areas that require exceptionally high standards of cleanliness and due diligence in controlling bacterial contamination.
Every component, from the plastic brush backs to the epoxy resin and filaments contain the silver-ion-based Biomaster Antimicrobial Technology, which inhibits the growth of a wide range of microbes such as MRSA, E. coli, Listeria spp and Campylobacter.
Silver has been used throughout history for a variety of medical purposes and has the most effective antibacterial action according to The Hill Brush Co. which is why it infuses its anti-microbial products with the Biomaster silver-ion additive. The company's products are infused rather than coated with the antimicrobial technology to protect the entire product. This ensures the products are protected for the lifetime of the product without the additive leaching out or wearing off.
Industries that would most benefit from this anti-microbial range include the healthcare industry, pharmaceutical industry and the food manufacturing and processing industry.
There are 28 products in the range, including hand brushes, floor brushes, buckets, squeegees, hangers and handles. Available in six colours, all components are FDA and EU food contact approved.
OTHER ARTICLES IN THIS SECTION