ARTICLE
Largest jewel in the crown
29 September 2017
Prochem Europe's new Sapphire 870SS liquid-cooled triple-operator truck mounted carpet and upholstery cleaning system delivers more heat, more vacuum and more pressure than any other unit in the Sapphire range.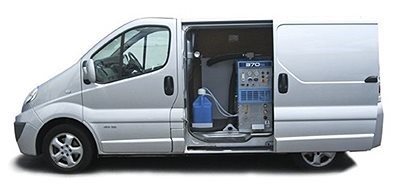 For durability and performance, this high extraction capacity cleaning titan employs premium components throughout including the commercial-grade 1.6 litre Hyundai petrol power unit, the unit's triple-source heat co-generation delivering day-long strong and consistent cleaning on the largest jobs.
As one of the most powerful slide-in truck mounts available, the 870SS features a heavy-duty tri-lobe positive displacement blower, a general pump HTS2016S producing 5.6 GPM, and a patented thermal well system with tube coil design and thermostatic control, capable of operating two hard surface tools simultaneously, maintaining full heat and pressure.
The 870SS is the premium Sapphire truck mount. Starters may prefer to opt for the entry-level option in the Sapphire Rage. Now with a new air-cooled belt drive system it's suitable for the start-up truck mount based carpet cleaning business or as an upgrade from portables to truck mount performance.
OTHER ARTICLES IN THIS SECTION