ARTICLE
Touchless cleaning
31 May 2018
Prochem Europe is to launch a new touchless cleaning technology for restrooms and other wet areas that also can be used on carpet and upholstery.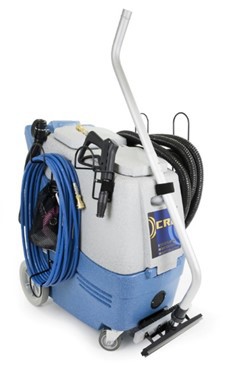 The Chessington-based company's CR2 Multi-Surface is a versatile 'touch-free' restoration system that not only does away with the need for mops and brushes, but – with the addition of a carpet wand or upholstery tool – can also be used for carpet and upholstery cleaning.
The CR2 combines a pressure washer with a powerful vacuum system for areas where traditional methods of cleaning like mopping are ineffective.
The machine works by breaking down loose dirt and grime from porous surfaces and hard-to-reach areas so that they can be effectively removed using the squeegee and vacuum system.
User demand fuels development
The introduction in 2018 of the CR2 comes on the back of 12 months test-marketing at Prochem Europe to ascertain its potential for the UK market.
Says Sales Manager, Phil Jones: "We showcased it at the last Cleaning Show here in the UK and the response was unequivocally positive.
"Like all the best solutions, this system embodies a relatively simple technology that enables the cleaning of toilets, urinals, and restroom floors without the user getting his or her hands dirty.
"There's no need even for chemical mixing as the solutions container fits to the machine case for automatic dosing during operation."
As well as practical, the CR2 meets growing demand for hygiene technology products, in particular for application in the healthcare, food preparation and hospitality sectors. Says Phil: "These user sectors are strongly driven by legislation and demand for ever-higher standards of cleanliness, hygiene, health and safety and in turn, reductions in resource with a greater adoption of recycling."
Powerful pump with three-stage vac
The CR2 Multi-Surface machine has a powerful 500 psi pump with built-in auto chemical feed system for cleaning and pressure washing and offers an optional Heat 'n' Run system to further boost cleaning performance.
A three-stage vacuum system enables swift and effective water and soil recovery. A built-in wand and hose caddy system makes the CR2 easy to transport with all necessary tools required to site. A wide range of optional carpet and upholstery cleaning accessories further broadens its application to multi-surface restoration, as and when required.
More information and pricing on the CR2 Multi-Surface can be found in the Prochem Europe 2018 Catalogue, available now.
RELATED ARTICLES
No related articles listed
OTHER ARTICLES IN THIS SECTION