ARTICLE
Heritage bin boasts new features
17 October 2017
Leafield Environmental's Square Heritage hooded litter bin is being re-launched with a host of new features but still maintaining the traditional style that has made it so popular.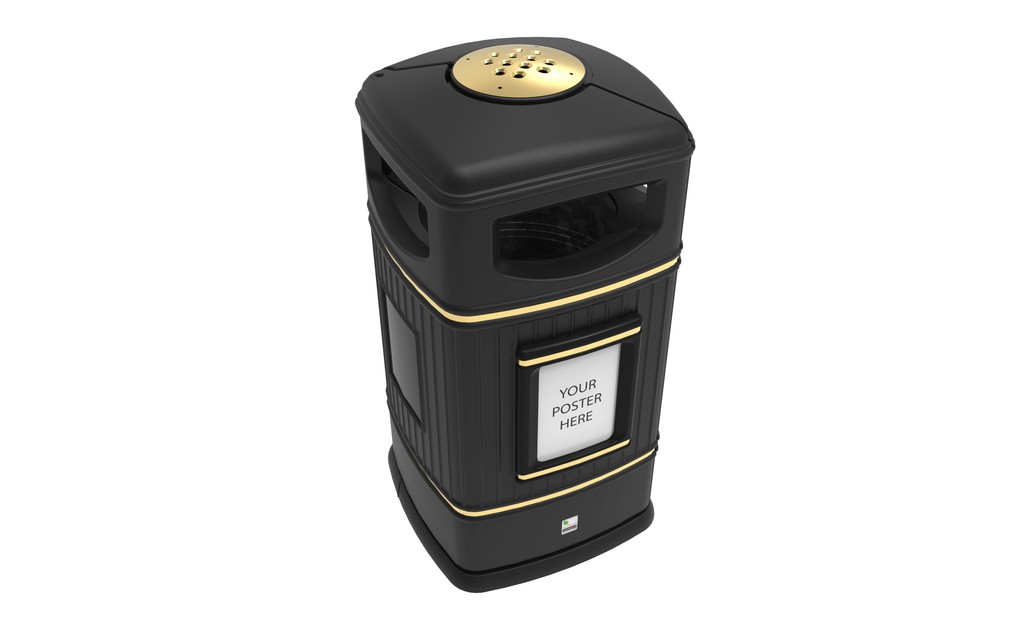 One of the most durable litter bins available, thanks to the double wall construction throughout the entire bin, the Heritage's outer walls now sport ridges to prevent unwanted fly posting.
Personalisation panels feature on each of the four faces and each can be enhanced with a framed polycarbonate poster cover to carry advertising promotional material or sponsorship.
All four faces have moulded chamfered apertures with extended lips that direct the litter into the 115litre plastic liner, although a galvanised steel liner is available as an option. Now, for the first time, a plate is available to blank off an aperture when the bin is to be sited against a wall. For those sited in coastal areas, optional pest flaps deter nuisance seagull intruders.
For smokers, optional metal stubber plates and a new 1litre ashtray with quick release emptying mechanism are offered. The ashtray covers can now be coloured gold to match the popular decorative external banding.To bring the Square Heritage bins up-to-date they are 'sensor ready'. They can now accommodate the fill-level sensors that turn them into Smart Bins and provide authorities with the intelligence necessary to make their litter collection operations greener and more efficient.
OTHER ARTICLES IN THIS SECTION