ARTICLE
Social Enterprise launches eco-foaming hand wash
26 July 2017
New Honey Blossom Eco Foaming Hand Wash from the social enterprise CLARITY has been launched into large organisations and the government to support the employment of blind, disabled and otherwise disadvantaged people.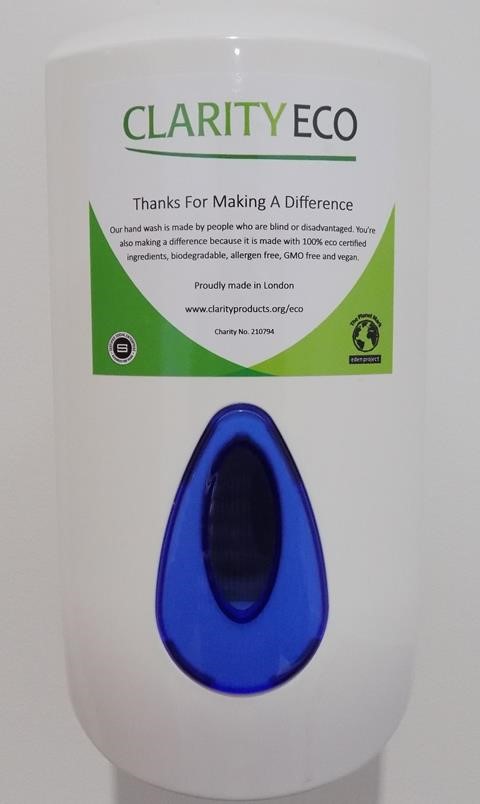 Developed in co-operation with the Cabinet Office and Interserve, the product and the fact that CLARITY now holds The Planet Mark, emphasises their endeavour to improve environmental credentials.
The hand wash, made with 100% eco certified ingredients, is vegan, biodegradable and allergen, gluten and GMO free. In addition, it is free from SLS, sulphates and parabens making it efficient and environmentally friendly for CLARITY's customers.
The foaming hand wash is said to use just 20% of the dosage compared to the liquid alternative so will last five times as long. Studies have found that foaming technology reduces the amount of water used by almost 10% whilst increasing the likelihood that individuals will wash their hands; promoting good hand hygiene.
The hand wash has been developed as a Buy Social Corporate Challenge product, an initiative from Social Enterprise UK which Interserve is a partner of and the Cabinet Office supports. It aims to get businesses to spend £1 billion with social enterprises, such as CLARITY, by 2020. This hand wash makes it easy to switch your soap for social good.
Large corporations and Buy Social Corporate Challenge partners are planning to support the initiative by purchasing the hand wash, whilst several government departments are also set to switch to the new CLARITY range.
The hand wash is the first in CLARITY's new environmentally friendly range – CLARITYeco. All the products in this range are being created with the environment at the forefront of the design process and will use natural, cruelty and paraben/SLS free ingredients.
Camilla Marcus-Dew, head of commercial at CLARITY, said: "We are delighted to launch our new eco foaming hand wash with the support of our Buy Social Corporate Challenge partners. The result is an environmentally friendly product which will be loved by all employees, customers and visitors. It has secured employment for our staff, creating social value in many communities across the UK. We look forward to rolling it out to other Government departments and corporations."
Richard Beattie, director of procurement at Interserve, said: "At Interserve, we take our sustainability responsibilities very seriously – both from an environmental and social capital perspective. So, we are really pleased to be working with the CLARITY team to bring the first Buy Social Corporate Challenge product to market. This new product strengthens CLARITY's offering by combining social impact and eco-friendly credentials – it's a great product which I'm sure our clients will love."
OTHER ARTICLES IN THIS SECTION