ARTICLE
Industrial steam cleaning
27 June 2017
According to Matrix Cleaning Systems, its 4x4SD10KW and 4x4SD20KW models are the ultimate steam-cleaning machines available.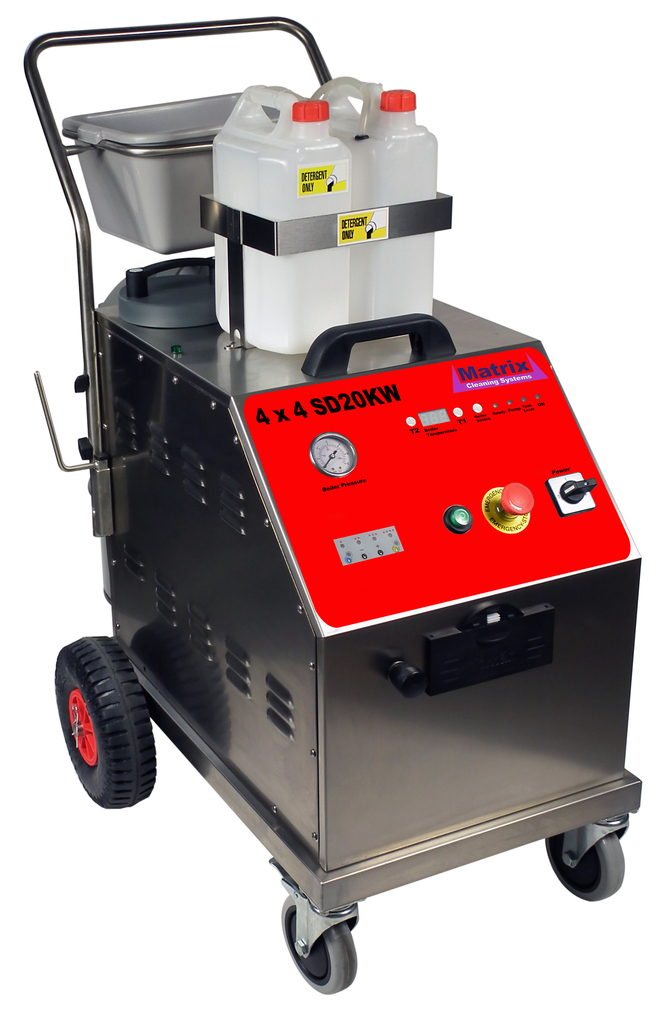 The 4x4SD20KW delivers more steam than ever before, a massive 26.4litres per hour - that's nearly twice as much - with the punch to make it a highly effective steam cleaner for any industrial application.
If you can deliver more steam, you clean faster. Dry steam at 180 ºC in this high volume is deployed at the optimum 10 bar pressure - making fast work of even the most stubborn, dirt ingrained, swarf-laden grease and grime. It dissolves grease, kills bacteria in an instant and sanitises every surface it touches, penetrating cracks and crevices and other hard to reach areas where manual cleaning with potentially hazardous chemicals cannot hope to go.
Matrix's Mike Osiadacz said: "As the supplier of the vast range of steam-cleaning machines, we continually push the barriers of machine development. With our Industrial range, we believe we have gone where nobody else has before in terms of the power to size ratio."
Operating from a three-phase electricity supply that meets the requirements of the majority of industrial factories and outlets, either machine can be used for long periods of time (it has up to ten hours autonomy), and may be connected to a mains water supply to allow continuous fill. Areas of production machinery that normally aren't cleaned at all, and gather dirt, grime and swarf, can be successfully steam cleaned effortlessly.
Within the food processing and printing industries, as well as in the heavy engineering environment, the 4x4SD20KW has all the power you need. Similar to the 10KW model, it is as well suited to static operation in conjunction with a belt cleaner to ensure the highest levels of cleanliness in production lines.
OTHER ARTICLES IN THIS SECTION