ARTICLE
Backpack and robot vacuum cleaners
04 August 2016
Professional power tool manufacturer Makita is targeting the commercial cleaning industry with two new vacuum cleaning machines which join the extensive range of mains and cordless dust extraction units, cordless vacuum cleaners and air blowers suitable for a wide range of industries.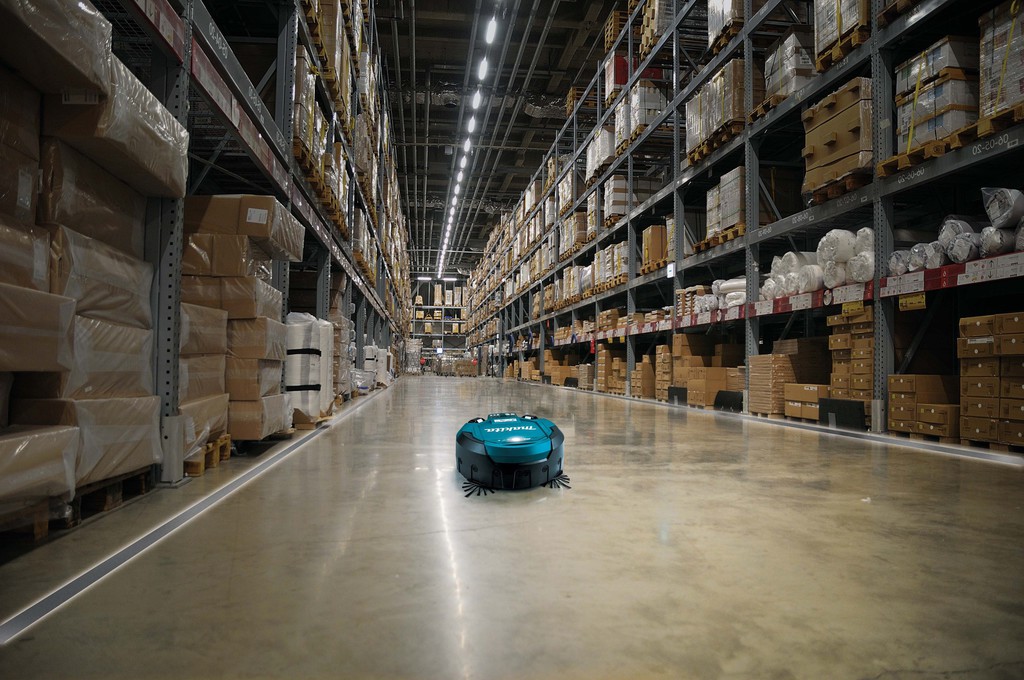 Makita's extensive knowledge of air flow and vacuum science, coupled with the proven Lithium-Ion battery platform, is integral in the new twin 18V Backpack vacuum cleaner and the new 18V Robotic Vacuum Cleaning machine. The technical merits of both cleaners are said to enhance the performance and productivity of contract cleaning operations in many commercial properties. Both machines are supplied in body only form for operators to use the batteries from their existing BMakita tools. Distributors can supply 3Ah, 4Ah or 5Ah Makita batteries with respectively 22, 36 and 45minute rapid recharging time.
The Makita DVC260Z backpack vacuum cleaner uses two 18V Li-Ion batteries directly housed on the machine to power the 36V DC Brushless motor which produces 45watts of suction power with a maximum airflow of 1.5m³/min and maximum sealed suction of 7.1kPa. The HEPA filter can be easily removed for cleaning. The high/low power selection is positioned on the machine control unit and two 5.0Ah batteries give 60 minutes run time in high mode, and 90minutes in low mode.
Dust bag capacity is a useful 2.0 litres. Weighing just 4.3kg, and supplied with a full brace harness with waist and shoulder belts for ease and comfort, this quiet-running Backpack vacuum has a lightweight 28mm suction hose, telescopic straight pipe with 500-850mm length adjustment, and flexible rubber nozzle ideal for cleaning uneven surfaces. The Makita DVC260Z is being trialled by train operators and airlines to speed passenger turn round.
In spacious commercial premises, such as restaurants, exhibition centres and museums, a robotic vacuum can go to work when pedestrian traffic has ceased, which reduces the need for human activities, enabling labour to be more effectively deployed in other more sensitive areas. The Makita DRC200Z 18V Robotic vacuum will run for three hours and twenty minutes at a maximum speed of 0.3m/s, and cover up to 500m² in either a random pattern, or a fixed area marked out with boundary tape on the floor which effectively limits the vacuum's area of operation. The main power brush and twin side brushes give an impressive sweeping area and this machine has a giant 2.5 litre dust collection box. It can operate in vacuum and brush mode or brush-only for larger debris.
Ultrasonic detectors and bumper sensors stop the machine on close contact which then sends the machine in a different direction. A buzzer and blinking light on the machine warns nearby workers of the vacuum's approach. An LED indicates when filter cleaning is required and a cliff sensor stops it falling down stairs. A wireless remote controller can be used and it can be set to start after 1, 3 or 5 hours enabling visitors or staff to be out of the building when robotic cleaning commences.
OTHER ARTICLES IN THIS SECTION