ARTICLE
Surmounting the escalator challenge
25 November 2016
Facility managers and their cleaning teams face a dilemma when it comes to escalators and travelators. Stand back as cleaning standards go down or pay extra and watch cleaning costs go up. But now they can be integrated into efficient routine floor cleaning, thanks to a low-cost manual cleaning system, says James White, managing director of Denis Rawlins Ltd.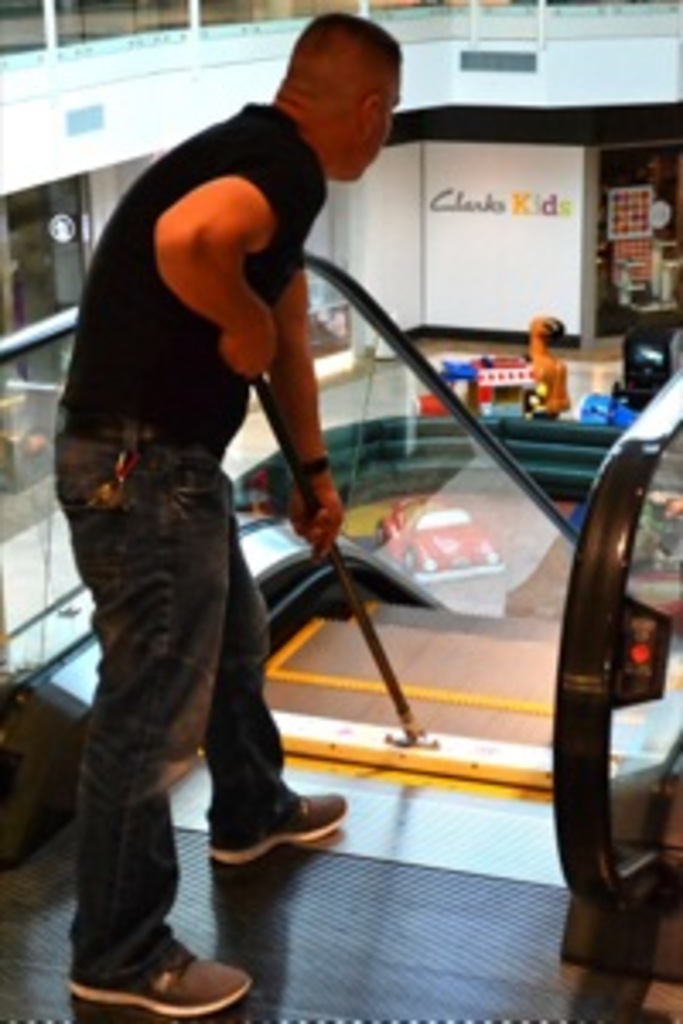 In some respects at least, escalators and travelators are just another area of flooring – that happens to be moving. They are subject to more or less the same footfall as the areas at either end and they're also prone to spills, litter and accumulating soils and dirt. But they are not treated the same for good reasons, and bad.
Escalators are also likely to be the most expensive and their electro-mechanical parts beneath are vulnerable to corrosion from sugary drinks, excessive moisture, grit and salt, and the build-up of other crud and detritus. Building users at least have the support of a handrail as they enter, exit and walk on the moving stairs, but where a slip does happen, the consequences are more likely to be horrendous.
So when it comes to a building cleaning regime, this moving target requires special measures. Traffic and cleaning frequencies will vary between the many retail stores, transport terminals and large office blocks that rely on escalators or travelators. The level of traffic and soiling should determine cleaning requirements. That may be daily cleaning for heavily trafficked escalators or weekly if the usage is moderate. But if the floors leading to or away from escalators are cleaned daily, the same cleaning frequency should apply as to those neighbouring areas.
However, concerns about the cost and effectiveness of the cleaning methods available can also distort the inevitable variations in cleaning plans. Do we risk damaging the electrics or accelerating metal corrosion by adapting our existing cleaning techniques? Should we invest in a specialised cleaning machine? What about training and then rostering those instructed in its use? Should we instead pay specialist contractors to do the job? How then do we integrate escalators into routine cleaning? Either way can we justify the additional investment or expense?
The dilemma for facilities managers and cleaning contractors is compounded by the limitations of specialist cleaning equipment. Dedicated cleaning machines for escalators tend to suffer from significant drawbacks – such as being large and cumbersome to use, cleaning over-aggressively or consuming a lot of water or solution.
Alternatively, using general cleaning equipment intended for normal flooring may save money but at the expense of risking damage to the asset or injury to the operative. We know of cases where operatives have even attempted to use a string mop to potentially disastrous effect. Needless to say, such an approach is ineffective as well as misguided.
The upshot of all this is that escalators are often cleaned less frequently and to a lower standard than surrounding floors. However, thanks to a new low-cost manual cleaning system, that should no longer be the case.
As a company, we have championed evidence-based cleaning (and campaign to Chop the Mop), which has kept our minds open to innovative methods that others, scanning the horizon for the latest hi-tech solutions, might overlook. This led us to introduce the No Touch and Crossover cleaning systems, which use simple, reliable pumps and other components to scientifically proven effect in the hygienic cleaning of washrooms and food service areas. They were developed by Kaivac in the US, where the dynamic cleaning scene also yielded the solution we had been seeking for escalator cleaning – REN Clean.
What is REN Clean?
REN Clean is a simple cleaning system based on an engineered sponge pad. This pad, when positioned against the combplate, lets the escalator do the work of cleaning itself. Deceptively simple, yet highly effective, REN Clean is covered by pending patent applications.
There are two types of REN Clean pad tailored to fit the cleat pattern of the standard escalator designs in the UK and other countries. The only other elements of the system are a pad holder, a light telescopic pole or handle, and the container which doubles as a trough for immersing the pad in cleaning solution.
Once saturated, the pad is easily positioned by one person against the combplate in the top or bottom landing platform of the escalator, depending on the direction of travel. The pad slots into the spaces between the metal cleats. As soon as the device drops into place, cleaning begins. As the oncoming treads of the steps pass through the pad, it removes and absorbs the dirt, grease and soils from the escalator. Apart from modest downward pressure on the pad to keep it securely in place, no other effort is required as the motion of the escalator provides the cleaning force.
The actual cleaning process only takes minutes – 3-5 for a complete cycle depending on the length of the stairs or walkway. No power supply is required, and there is no need to stop the escalator or travelator; all that's required is to cordon off the access point to pedestrians if cleaning during opening hours. The entire escalator or travelator cleaning operation should take no longer than 15 minutes.
Once removed from the tread, the used pad clearly shows the amount of soil that's been removed. As the sponge pads are designed for regular cleaning, they can be washed and re-used.
REN Clean is also effective for restorative cleaning. Where an escalator is heavily soiled, we recommend pre-spraying the steps with cleaning solution and allowing 5-10 minutes' dwell time to loosen the encrusted contaminants. Regular cleaning can then guard against any future build-up of soil.
There may be a tendency in our, and other, industries to assume that it is only the most technically advanced and sophisticated machinery that can embody progress. But our demonstrations of REN Clean have immediately convinced facilities and cleaning managers of this manual system's cost-effectiveness.
Benefits of REN Clean
REN Clean has now been tested on some of London's longest and busiest escalators where maintenance and cleaning crews told us it cleans better than machines. Building services staff have also remarked on how, after REN Clean, escalator steps feel less slippery under foot. The simplicity of the REN Clean system also offers a range of benefits in terms of productivity and cost.
As cleaning of escalators and travelators is a one-person operation with minimal training and effort involved, the task can easily be delegated to any member of the cleaning team. Also as the cleaning cycle is so short, integrating the operation into a routine cleaning programme is straightforward.
With no need to transport, set up and connect a machine to the power supply, any disruption to building users is minimised and there are no trailing cables to pose a trip risk. Nor do escalators need to be turned off and on again – merely cordoned off at the entrance platform if the building is in use.
REN Clean can also be rapidly deployed in emergencies, such as when drinks and other liquids are spilled. Any concerns for the integrity of the escalator and its mechanisms are also allayed as the pad is engineered to remove soil without inflicting wear and tear on the treads. The cleaning solution too is specially formulated for use on escalators and travelators.
Above all, REN Clean is highly cost-effective. It is not unusual in the cleaning sector to see expensive equipment, sometimes over-engineered for the task or under-utilised, providing a poor return on investment – and this is more likely to be true of specialist escalator cleaning kit. The costs of acquisition, use and consumables are all modest for REN Clean by comparison with the alternatives.
So facilities and cleaning managers need no longer face the dilemma of watching cleaning costs go up – to pay for specialist contractors or equipment – or standards of cleanliness go down, as escalators are cleaned ineffectively or less frequently than other floors.
The mounting interest since we introduced REN Clean to the UK market reinforces our view that escalators and travelators can now be cleaned as cost-effectively as other floors.
Types of pad
Choosing the right REN Clean pad is simple. There are two types to fit the tread grooves on any escalator or travelator. To identify the right pad to use, you can use a REN fit card or simply count the number of cleats per foot width.
Escalators with 36 – manufactured by Otis and Fujitec – require the W-series REN Clean pad. The V-series pad is designed for escalators with 34 cleats, the design favoured by Schindler, Kone, Westinghouse, Mitsubishi, ThyssenKrup and Haughton/Peelle. Each pad is available in three lengths as escalators also vary in width.
Cleaning solutions
The cleaning solution used must be designed specifically for cleaning escalators and travelators. Tread Clean is the trade name of the liquid concentrate recommended for use with the REN Clean system.
It has a special, non-corrosive formulation that ensures regular cleaning will not harm escalator mechanics, plastic parts, and aluminium or painted treads. Diluted 10 to 1, this solution dries quickly, leaving no sticky residue.
Tread Clean is non-toxic, non-hazardous as waste and biodegradable. It also complies with clean air and VOC standards.
OTHER ARTICLES IN THIS SECTION