ARTICLE
Auto-dose laundry system
07 June 2016
P&G Professional has introduced the Ariel Professional System, a new auto-dose laundry system designed to deliver an impeccable standard of clean in the first wash, helping to reduce total operating costs.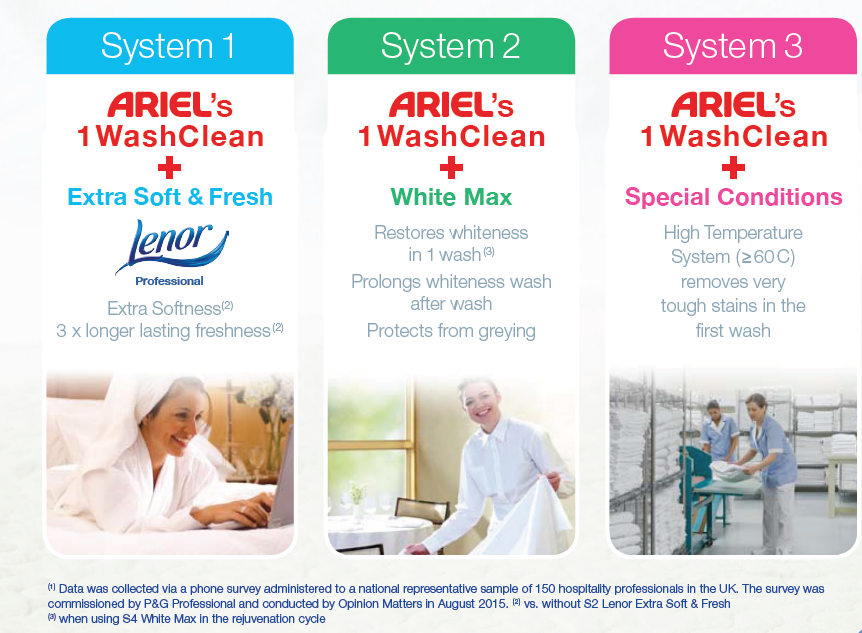 A recent survey by P&G Professional showed that a typical operator in the hospitality sector in the UK spends about £35,000 on replacing linens, nearly six times more than what is spent on laundry chemicals per year. This investment is in addition to the time and money spent when operators have to rewash an average of 34 wash loads per week.
Meeting expectations in the first wash, the Ariel Professional System is said to save time and money – from helping spend less staff time, chemicals, water and energy on rewashing; to helping keep linen in use for longer.
The new Ariel Professional System deep cleaning technology is said to deliver 'one wash' results by lifting out stains even from the deepest layers of fabric. The system has been designed for businesses with high laundry volumes that require a quality professional laundry system that meets their specific needs.
There are three separate system options: 1 wash clean + Extra Soft & Fresh - for extra soft and fresh towels; 1 wash clean + White Max, for linen that can stay in use two times longer; and 1 wash clean + Special Conditions, for high volume and heavy duty laundry challenges.
Mark Porst, commercial director UK & Ireland for P&G Professional, said: "In this day and age hospitality businesses and commercial laundry operators are finding it more and more difficult to keep their laundry systems at a premium standard, whilst maintaining customer satisfaction and managing costs. Investment in the Ariel Professional System helps operators meet high guest expectations, but can also contribute to their bottom line by saving time and money throughout the laundry process."
OTHER ARTICLES IN THIS SECTION