ARTICLE
Eco-friendly cleaning range
21 March 2016
Arco is keen to help British businesses make a positive impact on the environment, and become more sustainable, by offering a range of eco-friendly cleaning products.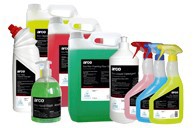 EU Ecolabel, FSC or The Green Sack logos certify that products have not created a negative impact on the environment during production.
EU Ecolabel products span across paper, skincare and cleaning chemicals and are designed to help protect the environment by producing less waste and pollution compared with similar items on the market resulting in a more cost effective approach. The Tork Folded Toilet Paper for example, offers sheet by sheet dispensing encouraging less wastage. The SCOTT XTRA Hand Towels are dispensed one at a time so they're touched only by the user, improving hygiene whilst reducing consumption.
All Arco Wooden Brushware is certified by The Forest Stewardship Council (FSC) which allows customers to quickly identify, purchase and use timber and forest products produced from well-managed forests. Arco's Green Sack refuse sacks are 100% recycled with a high percentage of recycled farm films sourced from UK and Irish farms and reprocessed in the UK. This not only offers an inherent strength but also results in the lowest carbon footprint of any refuse sack available on the UK market, the company claims.
OTHER ARTICLES IN THIS SECTION